Left 4 Dead franchise reaches 12 million sales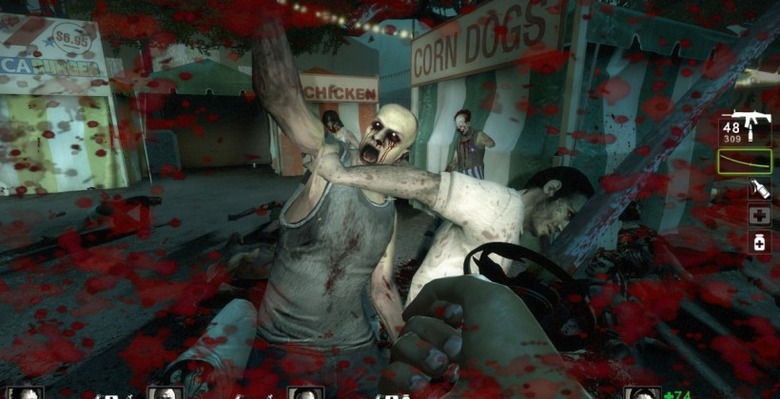 Valve, it would seem, is on a roll lately. Not only did it launch non-game software on Steam today, but it recently announced that the Left 4 Dead franchise has topped 12 million sales. An impressive feat, to be sure, especially considering just how crowded the FPS genre is at the moment. Zombie games aren't exactly a rare thing these days either, but depending on who you ask, Left 4 Dead does the zombie apocalypse best.
The news comes from Valve's Chet Faliszek, who shared the sales figures in a recent interview with VG247. According to Faliszek, Left 4 Dead was a success because Valve didn't hype the game before launch, instead allowing players check it out themselves pre-release and letting the gameplay speak for itself. "Telling people a game is great will sell one extra copy," he said. "Letting people play the game–Left 4 Dead is a good example–is much better.
"All of our pre-release stuff is designed to just let people play it," Faliszek continued. "We just let the game speak for itself because the Internet has made this thing where, you can't pull the wool over people's eyes any more. They're going to know you're hyping. But when a game does really well at pre-release, they're going to know that you're not just talking a bunch of PR crap. I mean, the Left 4 Dead series has now sold over 12 million copies."
The same could be said of all of Valve's games. Though Valve does do a considerable amount of advertising for its own games – Portal 2 comes to mind – Valve typically lets fans hype its games for it. Sure, Valve likes to talk about what its doing to improve on previous iterations or the genre in general, but for the most part, it seems that the studio stays away from "bragging."
Valve also supports its games for a really long time after release, with Left 4 Dead 2 being the shining example of that. The game was released way back in 2009, but Valve was still supporting it with new DLC campaigns into this year. Left 4 Dead fans have a reason to celebrate with this news as well, since 12 million sales for the franchise means we can probably count on Left 4 Dead 3 at some point in the future. Stay tuned.