Leaked Rite Aid docs say Apple Pay may never come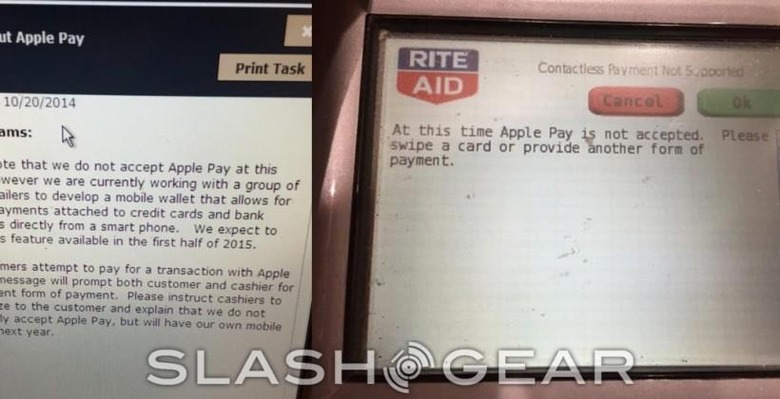 Earlier today, we told you about Rite Aid disallowing Apple Pay from their point of sale terminals. At the time, it seemed to be an NFC issue, wherein Rite Aid was simply not prepared to accept any form of NFC payment (news of Google Wallet not working at Rite Aid bolstered that suspicion). Via leaked documents, we learn that Rite Aid has no technical issue with NFC payments, but Rite Aid's involvement with a competing platform is to blame for your inability to use Apple Pay at their stores.
An internal document, which you can see above and below, details to employees why Apple Pay isn't being accepted right now. It also suggest Rite Aid customers will not be able to use Apple Pay moving forward as Rite Aid focusses on their own program. Here is the text of the alleged internal memo:
Please note that we do not accept Apple Pay at this time. However we are currently working with a group of large retailers to develop a mobile wallet that allows for mobile payments attached to credit cards and bank accounts directly from a smart phone. We expect to have this feature available in the first half of 2015.

If customers attempt to pay for a transaction with Apple Pay, a message will prompt both customer and cashier for a different form of payment. Please instruct cashiers to apologize to the customer and explain that we do not currently accept Apple Pay, but will have our own mobile wallet next year.
We won't swear to the validity of the internal document, as it comes to us via an intermediary party.
If it is accurate and official Rite Aid documentation, it mentions Apple Pay specifically, but makes no mention of other mobile payment services. That's likely due to the popularity of Apple Pay.
Forgoing Apple Pay is a strange thing to do for Rite Aid, but it seems their aim is to stay the course and offer up their own service. There is no mention of Apple Pay ever coming to Rite Aid; only that their new mobile wallet program is coming next year. That seems like a bad idea, considering the history of mobile payments and competing wallet platforms like Google Wallet and Isis Softcard.
Thanks, Yoshi!