Leaked photo claims to be the first shot of the back plate for the iPhone 5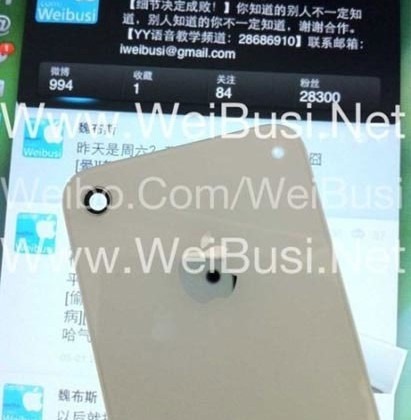 The one endless fountain in the world of tech is Apple rumors. As long as Apple is around, there will be rumors of new products and speculation on what the new gear will look like. Lately much of the rumor mongering on new Apple products has been focused on the iPhone 5 or iPhone 4S if you prefer. There have been so many rumors about the next version of the iPhone that we rounded them all up back in April.
A while back, an Apple patent app outlined a new way that Cupertino was looking to put the antenna on future iPhones behind the Apple logo. A new photo has surfaced that will only add to the rumors floating around. The photo claims to be the first real shot of the back of the iPhone 5. The photo shows a back that looks a lot like the iPhone 4 we have today with a notable change. The camera flash is moved to the side opposite the camera lens.
It's hard to tell in the photo if the black dot in the center of the Apple logo is another sensor port or just a reflection. You can't see through it to the screen beneath the phone back as you can the other two so it may just be a reflection. Since we are rumor mongering, I could point out that the circle could be something to do with the logo antenna as well. Then again, this entire photo could be nothing but a Photoshop.
[via PhoneDog]