iPhone 5 to get metal back with antenna Apple logo?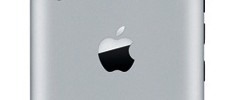 Apple is reportedly planning to switch from the glass-backed iPhone 4 design to an aluminum chassis for the iPhone 5, in an attempt to bypass issues with cracking and scratching, together with paint finishes. According to an Macotakara source, the new metal backplate will have a resin Apple logo integrated with the WiFi, cellular and other antennas, apparently replacing the edge antennas found on the current iPhone 4.
The glass design of the iPhone 4, the sources suggest, has left Apple frustrated with its durability and weight. Problems, meanwhile, with the antenna design – the so-called antennagate issue – forced Apple to offer free Bumper cases to address reception complaints.
Finally, the issues surrounding the much-delayed white iPhone 4 have, it's been suggested, been a result of painting difficulties experienced in the manufacturing process, something a shift away from glass would address. The report also tips the same dual-core Apple A5 processor as found in the iPad 2, and an unveil – as generally expected – in June or July this year.
Of course, Apple could also be looking beyond aluminum to Liquidmetal, the technology it invested in last year and which is currently only used to make the SIM removal tool. Liquidmetal is billed as scratch, corrosion and grease proof, and as strong as titanium but uses a third of the material.
[via MacRumors]