Leaked image shows third gen Moto X backside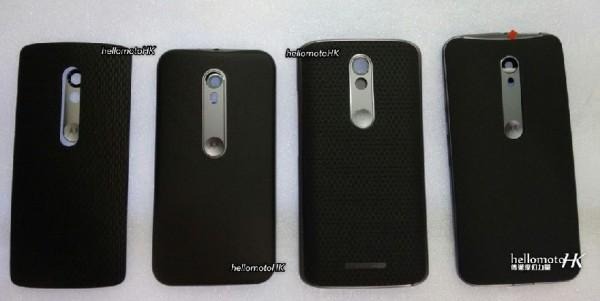 A new image has hit the web claiming to show off the back panel of several coming Motorola smartphones. The image shows four different back panels claiming that they are (from left to right) the DROID Mini, Moto G 3rd gen, a new Droid device, and the new Moto X third gen smartphone. All four of the devices look very similar and appear to be roughly the same size.
The specs for that Moto X 3rd gen device leaked back in May. That leak claimed that the smartphone would have a 5.2-inch AMOLED screen with QHD resolution. A 16MP rear camera and 5MP front camera were tipped and the processor is said to be a Snapdragon 808 with 4GB of RAM. Internal storage is 32GB or 64GB with a 3280 mAh internal battery.
The device on the far left of this image said to be the new Mini doesn't look small enough for that to be the case. It's very much the same size as the other devices. It does have a nicely textured back.
All of these devices look like Motorola is sticking to the same basic design that it has used for a long time now. No big departures in style are noted, which may not be a bad thing if you are a fan of Motorola.
SOURCE: Droid-life