Leaked Image Of Thunderbolt on White MacBook?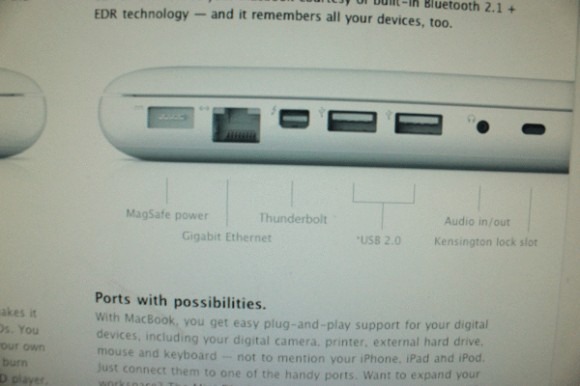 Intel's Light Peak lightening speed data transfer technology known as Thunderbolt debuted on the new Apple MacBook Pro line last week. With Apple's special event only a day away, we won't have to speculate for long whether Thunderbolt will be implemented on the iPad 2 as well. However, today an image purported to be a leaked shot of the plastic white MacBook also sporting the Thunderbolt port has surfaced suggesting the MacBook series may also be getting revamped with the new data transfer technology very soon.
Thunderbolt promises bi-directional data transfer speeds of up to 10Gbps and will likely replace USB and FireWire ports in the future. It is estimated to be 12 times faster than FireWire 800 and 20 times faster than USB 2.0. The new USB 3.0 is still only half the speed of Thunderbolt. But not only this, Thunderbolt is able to daisy-chain multiple devices without a hub, something that USB was never able to.
Other Intel partners including LaCie, Promise, and Western Digital have already announced upcoming devices to feature Thunderbolt technology. We also noted last week that Nikon is rumored to be implementing Thunderbolt on their Nikon D4, which would make it the first DSLR to feature the new data transfer technology.
–Thanks for the tip, Theo!