Intel Thunderbolt partners detailed: LaCie, Promise, Western Digital, more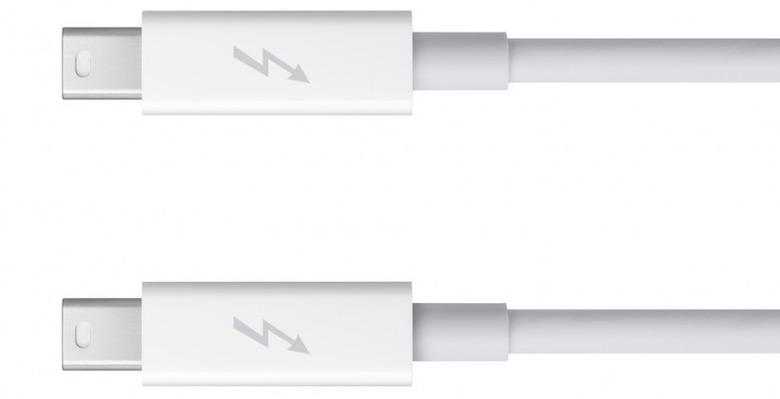 While Apple may be the first to debut Thunderbolt, the technology is all Intel's, and the company is not being quiet about which partners have jumped on board with the 10Gbps connection. Aja, Apogee, Avid, Blackmagic, LaCie, Promise and Western Digital are all among the roster of firms committed to pushing out Thunderbolt-equipped devices, which will include displays, storage devices, audio/video devices, cameras, docking stations and more.
Developed as Light Peak, Intel Thunderbolt consists of a bi-directional, dual-channel 10 Gbps pipe using electrical or optical cables. Compatible with existing DisplayPort devices out of the box, it's dual protocol – with DisplayPort and PCI Express – and allows for daisy-chaining and bus-power.
What makes the daisy-chaining special is that, thanks to the dual-channel technology, the first device still gets 10 Gbps to play with even if you then plug in a second device off the back of it. Up to six can be linked up from a single port, and with simple adapters a Thunderbolt connection can be turned into HDMI, VGA, DVI, gigabit ethernet, FireWire or USB.
We already know that Promise is readying the Pegasus RAID and LaCie a new Little Big Disk, both using Thunderbolt, and more should be announced any time now. Apple's new MacBook Pro notebooks will go on sale today.
Press Release:
Intel Announces Thunderbolt™ Technology: The Fastest Data Connection to Your PC Just Arrived

Blazingly Fast Data Transfer Combines with HD Display Connectivity to Enable New Usages and Peripheral Devices

NEWS HIGHLIGHTS:

Thunderbolt technology is a new high-speed PC connection technology that runs at 10Gbps.

Thunderbolt technology supports both data and display on a single cable, enabling greater simplicity, flexibility and new and exciting ways to use a PC.

Apple* is the first customer to offer Thunderbolt technology, coming first on its new line of MacBook* Pro laptops.

SANTA CLARA, Calif.–(BUSINESS WIRE)–Intel Corporation today announced the availability of Thunderbolt technology, a new high-speed PC connection technology that brings together high-speed data transfer and high-definition (HD) display on to a single cable. Running at 10Gbps, Thunderbolt technology can transfer a full-length HD movie in less than 30 seconds. This Intel-developed technology is coming to market through a technical collaboration with Apple, and is available first on Apple's new line of MacBook Pro laptop computers.

"We're thrilled to collaborate with Intel to bring the groundbreaking Thunderbolt technology to Mac users"

Wait Less. Do More.

The vision for Thunderbolt technology (formerly codenamed "Light Peak") is to move media faster, simplify connections between devices, and foster new and exciting ways to build and use PCs. Combining high-speed data and HD video connections together onto a single cable is instrumental to achieving that vision. Thunderbolt technology delivers this via two communications methods, or protocols — PCI Express* for data transfer and DisplayPort* for displays. PCI Express has the flexibility to connect to almost any type of device, and DisplayPort can drive greater than 1080p resolution displays and up to eight channels of audio simultaneously. Thunderbolt technology is compatible with existing DisplayPort displays and adapters. All Thunderbolt technology devices share a common connector, and let individuals simply daisy-chain their devices one after another, connected by electrical or optical cables.

Thunderbolt technology is designed to meet the demands of serious HD media creators. For example, videographers can unleash their creativity using high-bandwidth audio and video capture/mixing devices, and get both low latency and highly-accurate time synchronization for real-time processing. At 10Gbps, larger media files are transferred faster so there's less time spent waiting to watch and edit videos. Data can be backed up and restored quicker, so there's less waiting for archived content. For mobile PC users, it means having a single connector on their ultra-thin laptop that extends their high-speed media and HD display capabilities at home or in the office. Thunderbolt technology is complementary to other I/O technologies that Intel continues to support.

"Working with HD media is one of the most demanding things people do with their PCs," said Mooly Eden, general manager, PC Client Group, Intel. "With Thunderbolt technology, Intel has delivered innovative technology to help professionals and consumers work faster and more easily with their growing collection of media content, from music to HD movies. We've taken the vision of simple, fast transfer of content between PCs and devices, and made it a reality."

"We're thrilled to collaborate with Intel to bring the groundbreaking Thunderbolt technology to Mac users," said Bob Mansfield, Apple's senior vice president of Mac Hardware Engineering. "With ultra-fast transfer speeds, support for high-resolution displays and compatibility with existing I/O technologies, Thunderbolt is a breakthrough for the entire industry and we think developers are going to have a blast with it."

Thunderbolt technology is powered by an Intel controller chip, and uses a small connector suitable for mobile devices that will be included in products supporting the technology. Several innovative companies have announced Thunderbolt technology-based products, or currently plan to support Thunderbolt technology in upcoming products, including Aja*, Apogee*, Avid*, Blackmagic*, LaCie*, Promise*, and Western Digital*. Intel is working with the industry on a range of Thunderbolt technology-enabled products including computers, displays, storage devices, audio/video devices, cameras, docking stations and more.