LBook T9 Multitouch Windows 7 Slate Tipped For $350 In March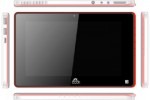 LBook have been quietly selling ebook devices for a while now, but the company is hoping to make a splash into the multitouch tablet market next year with their T9.  The LBook T9 is an Intel Atom-based 8.9-inch slate running Windows 7, and is tipped to arrive in March 2010 with a price tag in the $350 to $375 region.  If they can pull that off, it's an excellent price for a 12.7mm-thick sofa surfer.
Expected specifications include a 1.6GHz Atom Z530 processor paired with 2GB of RAM, a 120GB hard-drive and both WiFi and Bluetooth; there's also talk of optional integrated 3G, should you want to wander outside of a WiFi hotspot.  Battery life is estimated as in the region of 4hs, which seems reasonable given the 8.9-inch 1,024 x 600 display.
The whole thing is just 670g and there's an integrated webcam, several USB ports and what looks to be a memory card reader slot.  Windows 7 has been shown to run exceedingly well on relatively low-power Atom hardware, while its multitouch functionality is rather spiffy too, so assuming LBook can keep to their price estimates then they may have a winner on their hands.
[via UMPC Portal]