Latest Treos to get OtterBox protection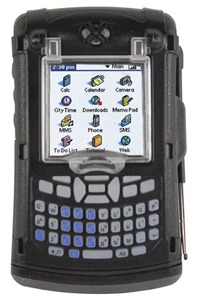 A quick trawl through the SlashGear archives and you'll see that OtterBox have already proved their worth in somewhat extreme circumstances, so when they launch a new product we know they mean business.  It's Vincent's new Treo 755p that they've set their sights on this time, offering up not only a way to keep it safe from dust, spills and, um, falling bricks, but to keep using it at the time.
Okay, so it'll win no catwalk awards, but if you're a rugged bugger out on a building site or clearing up landmines then you'll probably prize durability over everything else.  The case has a flip-up polycarbonate cover so that you can access the touchscreen, while all keys and casing buttons are functional via molded, sealed controls.  OtterBox are promising durability from drops while in motion, heavy rain and blowing dust, which sounds a lot like the environment Vincent suffers when he's riding his push-bike home after a night on the town.
Prices are expected to be around $130