Latest Takeshi Maeda OmniZero 'bot breaks cover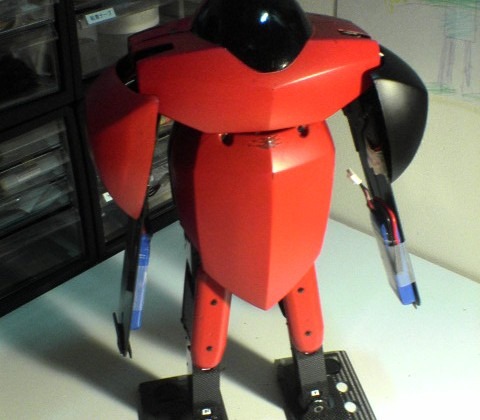 We've written about Takeshi Maeda's prize-winning robots before – last time it was the OmniZero.9, complete with some wicked looking arm blades – but his latest 'bot has us more than a little worried.  The new OmniZero marks a change in design direction for Maeda, and to our eyes looks a little reminiscent of the Cylon centurions from Battlestar Galactica.
Obviously the new robot is a long way from wiping out humanity and sending its scrappy survivors on a cross-galaxy quest, but given its predecessor was strong enough to carry a person we're hoping Maeda is keeping a close eye on it.  Saying that, it's obviously becoming something of an obsession: Maeda even had second thoughts about painting the robot, out of concern that the decoration could actually push it over the weight limits of the Japanese robot trials.
Meanwhile he's working on making the robot's gait smoother, as so far the motion control still needs fettling.  More photos of the robot – and of Takeshi's previous masterpieces, which have won various ROBO-ONE competitions in Japan including a 'bot that could transform between an upright walker and a truck – at his project page.
[via Plastic Pals]