Latest Fortnite season 10 teaser features a futuristic mech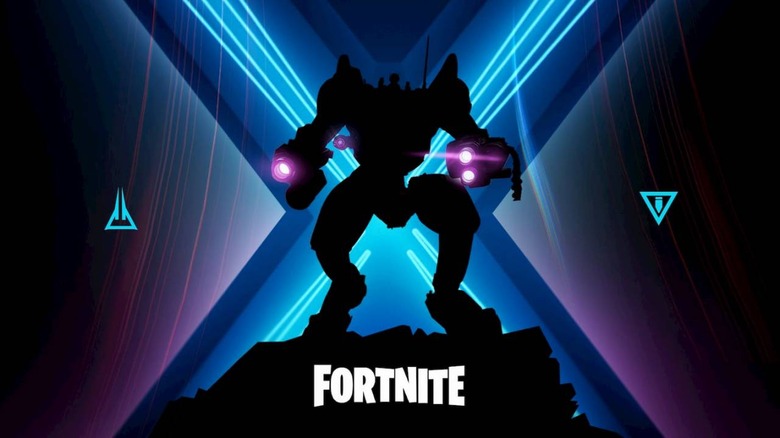 Over the weekend, Epic shared the first teaser for Fortnite season 10. This is, naturally, par for the course for Epic – when a new season is approaching, the company typically publishes a series of teasers to its social media accounts in the days leading up to that season's release. The second teaser for Fortnite season 10 has just landed, and if you weren't confused before, you probably will be shortly.
The first teaser showed what appeared to be Dusty Depot buildings alongside the caption "Think Back." At one point in Fortnite's early history, Dusty Depot was destroyed by a meteor impact and became Dusty Divot – a location that remains to this day. That initial teaser suggested that Dusty Depot may be returning in season 10, but unfortunately, the second teaser doesn't really clear anything up on that front.
Look Forward. 8.1.2019 pic.twitter.com/NSKq5diQrN

— Fortnite (@FortniteGame) July 29, 2019
Instead, this new teaser tells us to "Look Forward" and features the silhouette of what appears to be a giant robot. The robot in the teaser doesn't look like anything we've seen in the game before, so that means there's plenty of speculation about what it could be. One possibility put forward by players discussing the teaser is that could be a player-usable mech suit, which would be a pretty intriguing twist.
Epic is fond of adding all sorts of vehicles to Fortnite, from shopping cars to fighter planes, so we wouldn't put it past the company to add a mech as well. That "Look Forward" caption, when considered with yesterday's "Think Back," lends more believability to the notion that season 10 will have something to do with time travel as well.
Obviously, Epic isn't going to say anything official until August 1st, which is when season 10 goes live. The patch notes that land on that day will reveal all, but in the meantime, we're left to speculate about what the new season will entail. We've got two more teasers – one on Tuesday and the final one on Wednesday – to look forward to as well, so stay tuned for those.