Last.fm demands premium radio subscriptions for iOS, Android & more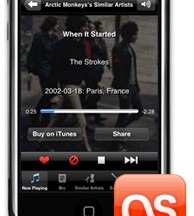 Last.fm has announced mandatory paid subscription plans for mobile and home entertainment devices accessing its streaming radio service, with the new premium subscriptions affecting anybody listening on their Android or iOS device, or indeed via Logitech's Squeezebox system. According to the company "it is not practical for us to deliver an ad supported radio experience" beyond the website and desktop app, though Windows Phone 7 users will still get free service in 2011.
Full list of affected devices after the cut
If you only use Last.fm for scrobbling, music and event recommendations, social networking and community forums, and the wiki-based artist information pages, you can still access those free no matter the platform. Similarly, Xbox Live users in the US and UK will get radio service with their Microsoft accounts.
Full details of all the platforms impacted are in the list below. Subscriptions are $3/£3/€3 per month.
Google Android – free app; subscription required for radio in US, UK and Germany

Apple iPhone – free app; subscription required for radio in US, UK and Germany

Microsoft X-Box Live (also with Kinect) – App free with X-Box Live Membership in US and UK

Microsoft Windows Mobile 7 – Free in 2011 in US and UK; subscription required for radio in Germany

All Logitech Squeezebox products – subscription required in US, UK and Germany

All Sonos products – Free until mid-summer 2011 for US, UK and Germany; subscription required thereafter

Revo AXiS, Ikon, Domino, Heritage – subscription required in US, UK and Germany

Roberts Stream 63i, 205, Colourstream, 83i – subscription required in US

M3 Muvid Products – subscription required in Germany

Teufel Audio Raumfeld – subscription required in UK and Germany

Selected Onkyo AV receivers – subscription required in US, UK and Germany

Denon and Marantz selected AV receivers – subscription required in UK and Germany