Lanner LEC-7020 nettop packs 3G & GPS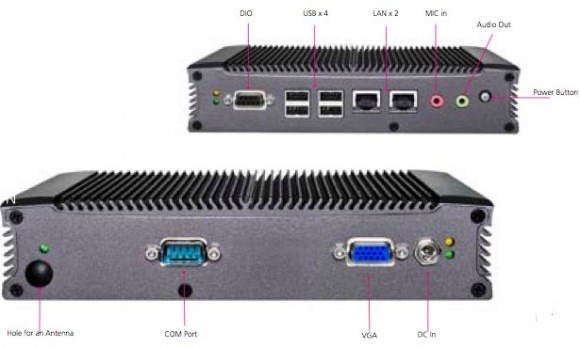 Just as netbooks eventually settled to a common spec, so nettops have proved uninspiring with their capabilities; that said, there's always room for something unusual, and so Lanner's new LEC-7020 certainly has appeal.  The company are positioning the compact PC as an embedded device, but with an Intel Atom N270 processor, GMA 950 graphics and up to 2GB of RAM it's really no different from other nettops we've seen.  As for that differentiator, the LEC-7020 has an integrated 3G modem with GPS.
That means that you're not limited to WiFi or wired ethernet – both of which the LEC-7020 has, in fact there are dual gigabit ethernet ports – and can get a 2G or 3G connection anywhere there's coverage.  Other connectivity includes four USB 2.0, VGA, COM and DIO, while the modem slots into a mini PCIe bay and there's an internal SIM reader.
Since it's intended for industrial applications, the side panel opens easily and you can choose between a standard 2.5-inch HDD or a CompactFlash slot.  Supported OSes include Windows XP, XP-embedded or Linux kernel 2.6.16 or above, and the whole thing is only 42mm high.  No word on how much it'll cost – we're guessing it'll be a lot more than your average nettop.
[via Linux for Devices]