Lancer Link takes on DisplayLink, USB Display extends to HDMI and 7.1 audio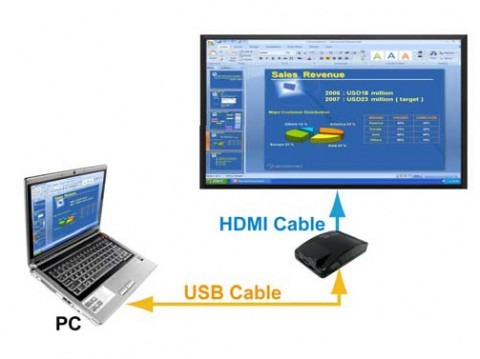 Taiwanese based Lancer Link Corporation has announced an USB monitor expander device with features similar to bus-powered DisplayLink, but supports HDMI video output and up to 7.1 channels of audio.
The Grand HD Cinema (GHC-U2H) enables users to quickly and easily add up to seven monitors to their extender monitors, TV displays or projectors with nothing more than USB 2.0 connectivity. It does so without AC power adapter as the unit supports bus-power. What are the exceptions? Like DisplayLink, it's only supported PC based Windows 32 bits OS XP/Vista, but unlike DisplayLink, its output supports HDCP-compliant HDMI video, and audio up to 7.1 channels. However, due to bandwidth limitation on USB media, the resolution is restricted at 1280x720 or 720P HD video. On the contrary, DisplayLink expands VGA or DVI monitors up to six units, supports both 4:3 and 16:9 aspect ratio outputs, and up to higher resolution of 1600x1200.
The Lancer Link Grand HD Cinema is available now in Japan for a suggested price of 20,000 yen ($221), and the company store has it listed for a further discount price of $12,800 yen ($141), but no word if it will be selling outside of the country.