Lamborghini Urus SUV leaks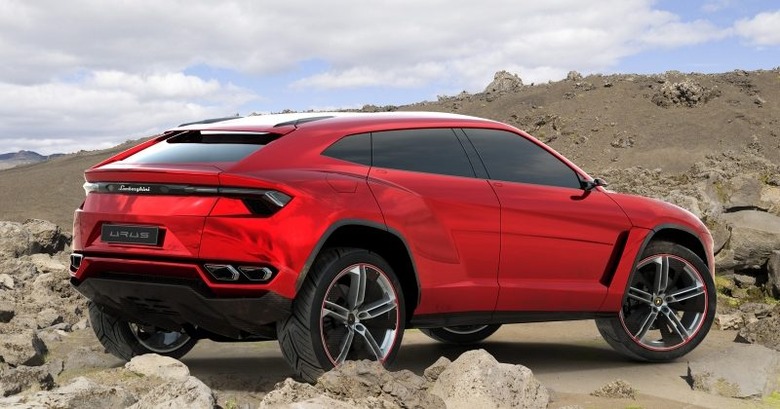 Lamborghini's baby SUV has leaked, and if you've been desperate for an Italian bull in a pumped up suit then the Urus could be the car for you. Teased earlier today in a bizarre elemental video, the leaked press shots from AutoForum.cz show an angular, aggressive car with a crouching stance and an interior that's never, ever going to make it to the showroom.
The dash is a chunk mass of carbon-fiber and touchscreen controls, with squinting vents and a bright red gear shifter. Meanwhile the seats are oddly sectional, a little like the shells of beetles. It's a four-seater, like Range Rover's Evoque, and we imagine rear headroom is going to be just as low as in the rival fashion-4x4.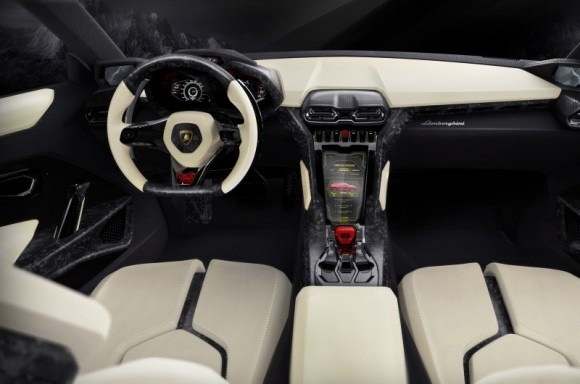 Under the hood is expected to be a 5.2-liter V10 engine, capable of around 584 hp. Sizable figures, but then you'd expect little less from Lamborghini. However, the Urus is also expected to considerably undercut its rivals in curb weight, despite sharing the same underlying platform as the upcoming Porsche Cayenne and Audi Q7 refresh, which should hopefully help keep it light on its toes.
No word on what we can expect in terms of pricing, but let's be honest with ourselves: this is going to be an expensive, rare beast. Lamborghini should announce it officially imminently, and we'll know more details then.