Lamborghini goes elemental in teaser madness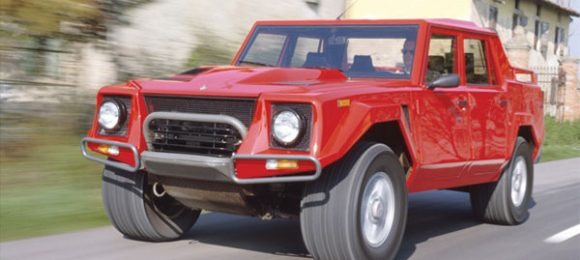 Lamborghini is mostly known for two things – tractors and exotic sports cars. Lamborghini got started making tractors for farmers and as the story goes, Mr. Lamborghini himself once purchased a Ferrari and was disappointed in the quality and performance of the car. He decided to build his own sports car, and the rest is history. There've been a lot of rumors recently that Lamborghini is getting ready to launch a new SUV. Presumably, the teaser video for that SUV has launched today.
Lamborghini has had an SUV in the past called the LM002 (pictured above), and it was suitably ugly. The only time I can remember seeing it on TV was an 80s cop show where the police raided drug dealers and were allowed to keep whatever they seized. The name of that show escapes me now. The new SUV concept images that have been floating around make it look a lot like a squished Gallardo on 4x4 suspension.
Whether or not the actual SUV will look the same as those images floating around is unknown. It seems strange for a company known for exotic sports cars be making an SUV, but SUVs are selling very well. Other sports carmakers such as Porsche and Audi produce SUVs, which are some of their best-selling models. Today Lamborghini released a new teaser video, which you can see below. It reminds me of a commercial for Wrath of the Titans more than the teaser for an exotic SUV.