Lamborghini produces its last Gallardo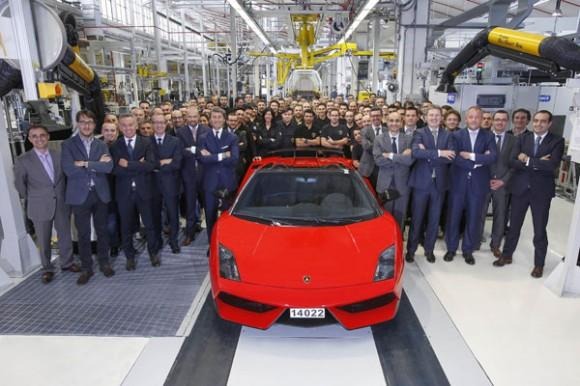 Lamborghini has announced the end of the road for one of the manufacturers most iconic and popular sports cars. The final Lamborghini Gallardo has rolled off the assembly line at the factory in Sant'Agata Bolognese. The very last Gallardo produced is a LP 570-4 Spyder Performante in Rosso Mars.
The exotic red sports car is destined for a private collector and will likely spend its life in a garage somewhere. Lamborghini says that it produced 14022 Gallardo cars making it the highest production Lamborghini in history. The Gallardo was an important car for Lamborghini making the move from producing only about 250 cars each year to producing an average of 2000 cars per year.
The first Gallardo was unveiled at the Geneva Motor Show in 2003. The second generation Gallardo launched in 2008 and brought lots of enhancements to the car including a new 570 hp engine. One of the last new Gallardo models to be unveiled by Lamborghini came in September when the Gallardo Squadra Corse was unveiled.
The special Squadra Corse has a dry weight of 1340 kilograms, 70 less than the normal Gallardo. It could reach 100 km/h in 3.4 seconds and 200 km/h in 10.4 seconds on its way to a top speed of 320 km/h. Since Lamborghini was founded in 1963 it has built 30,000 cars and almost half that number is made up of Gallardos.
SOURCE: Lamborghini