The Lamborghini Aventador SVJ is 770hp of peak V12 track fiend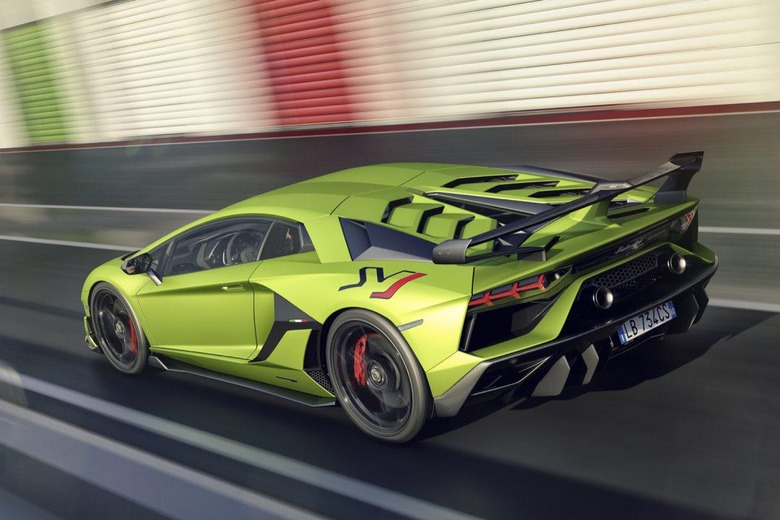 Is there such a thing as too powerful? Lamborghini certainly doesn't subscribe to such a concept, as the Lamborghini Aventador SVJ revealed at Monterey Car Week demonstrates. 770 horsepower and a top speed in excess of 217 mph suggests temperance and restraint still haven't found their way into the Italian supercar-maker's vocabulary.
Then again, we wouldn't really want it to. This newest generation of the Aventador builds on what supercar fans love about it: the naturally-aspirated V12 engine in particular. Lamborghini's engineers then wrap new, lightweight materials along with some cutting-edge aero into the mix.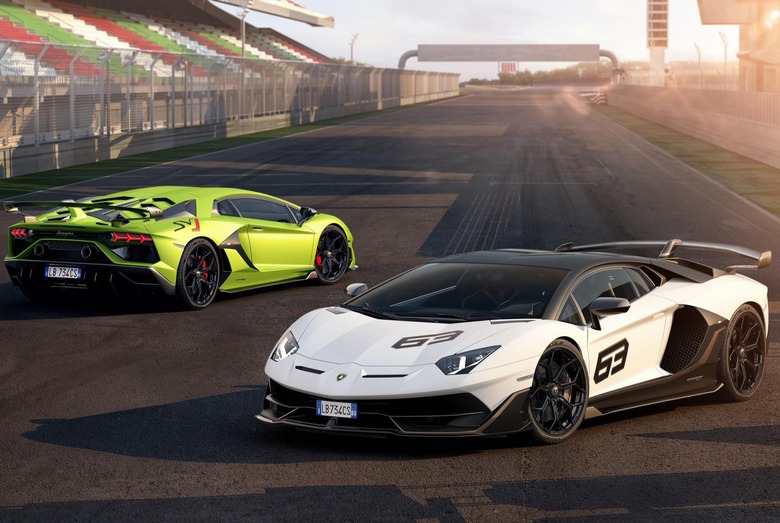 The engine is the most powerful series production V12 that Lamborghini has ever used. Power climbs to 770 horsepower, while torque is a heady 531 lb-ft with its peak at 6,750 rpm. It's enough, the automaker claims, for a 0-62 mph time of just 2.8 seconds, while 0-124 mph arrives in 8.6 seconds.
Top speed exceeds 217 mph, but the Aventador SVJ can brake from 62 mph to a dead stop in just over 98 feet, the company says. That's key, since Lamborghini expects it to be a fearsome track car, as the name suggests. "SV" stands for Superveloce, or "superfast," while the "Jota" suffix denotes its "track and performance superiority."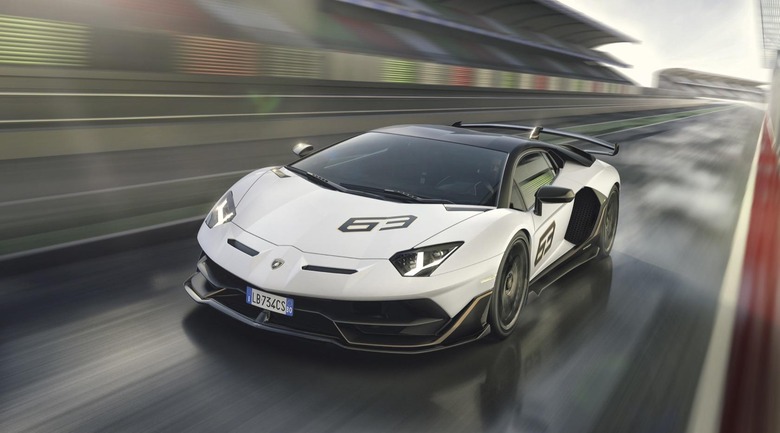 Power alone can't deliver that, mind. Lamborghini needed aerodynamic improvements too, setting itself the challenge of increasing downforce by more than 40-percent at each axle over the previous Aventador SV, and cutting the drag coefficient by 1-percent.
So, it's wider at the front thanks to a new bumper that has integrated side fins and a new air intake. ALA, the active aerodynamics system that we've seen work so well on the Huracan Performante, is included too. For the Aventador SVJ, Lamborghini is revealing ALA 2.0.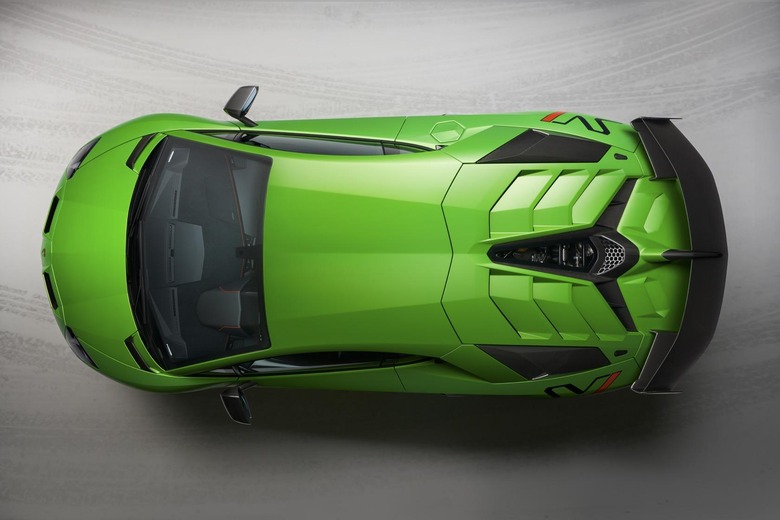 That means new, optimized air inlets and aero channel designs, along with a recalibration to suit the greater lateral acceleration of the more powerful car. By opening and closing active flaps in the front splitter and on the engine hood, ALA 2.0 can steer airflow at the front and rear. Closing the flaps increases downforce; opening them cuts drag. By alternating the rear wing's flow left and right, Lamborghini can increase downforce in the corners, too.
The disconnected front splitter not only looks striking, but it creates a meaningful channel for airflow. On the hood, the tri-dimensional air outlet improves both drag and downforce by directing air. Lamborghini says that a full 70-percent of the downforce increase is the handiwork of its upper aerodynamic optimization, in fact. Bigger side air intakes reduce drag and improve cooling, while the rocker is entirely new.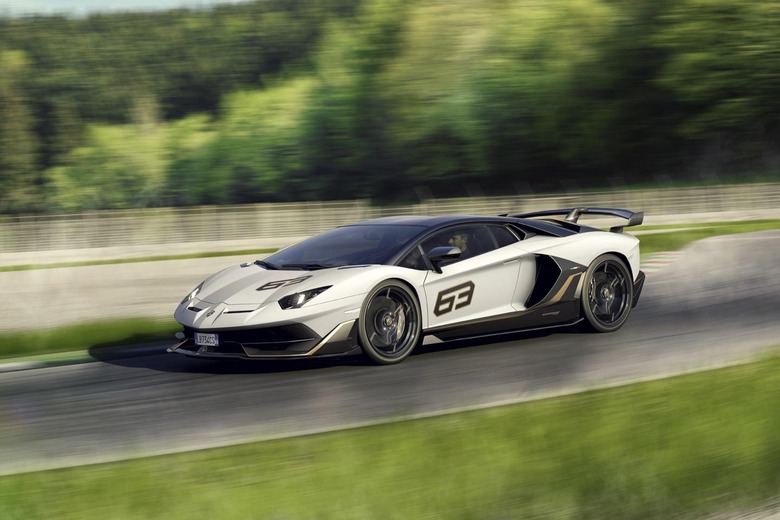 Underneath, the aero design has added vortex generators which work with the front diffusers. A new rear diffuser, with divergent fins, contributes 30-percent to the total downforce improvement, Lamborghini says.
Then there's the rear wing. Made entirely from carbon fiber, it has a new air foil and an optimized ALA 2.0 system, together with side winglets to cut turbulence and deliver more downforce on straights and in corners. It's atop a high-mounted, naked exhaust, which not only looks fierce but cuts weight as well. An Omega-shaped rear bumper houses the new diffuser.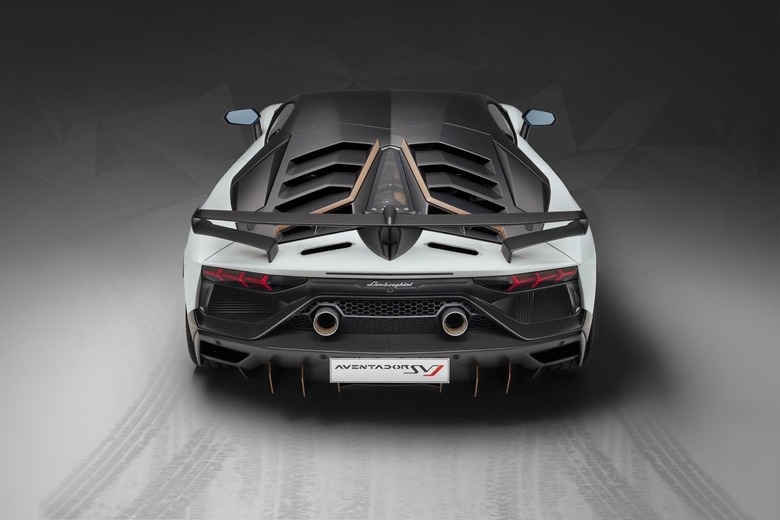 Super-light "Nireo" aluminum wheels have been designed especially for the Aventador SVJ. Lamborghini also has optional "Leirion" aluminum rims, with "Y" and hexagonal details. They're combined with rear-wheel steering, retuned for racing, and an updated four-wheel drive system that allows 3-percent more torque to be pushed to the rear wheels versus the SV.
They're shod in new Pirelli P Zero Corsa tires, which were specially made for the Aventador SVJ. Higher vertical stiffness pays dividends when dealing with the greater downforce, while a specific tread design promises greater grip. Pirelli P Zero Trofeo R tires – street-legal, but more intended for track use – are an option.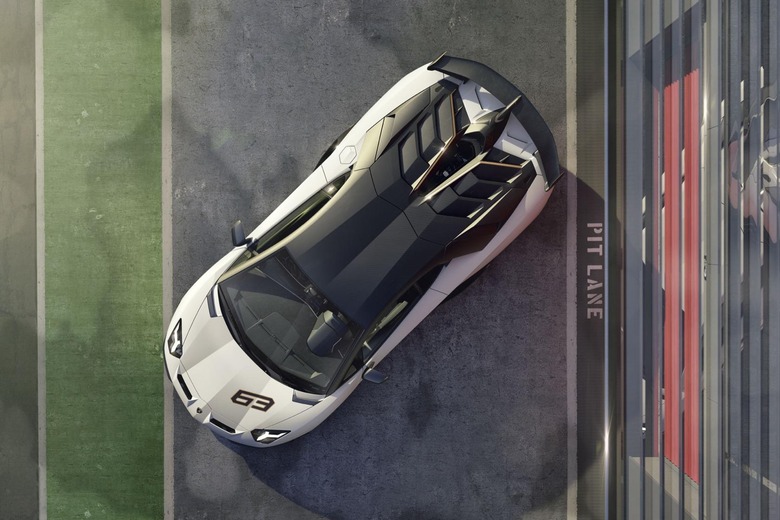 The proof of the pudding is in the lap time. Lamborghini took the Aventador SVJ off to the infamous Nürburgring-Nordschleife, where it promptly crushed the production car record. A 12.8 mile lap was completed in a mere 6:44.97 minutes.
In the cabin, there's the trio of drive modes – Strada, Sport, and Corsa – and EGO to customize all of the car's configurations. Navigation and Apple CarPlay are included as standard, while Lamborghini's telemetry system to record lap times and track performance is an option.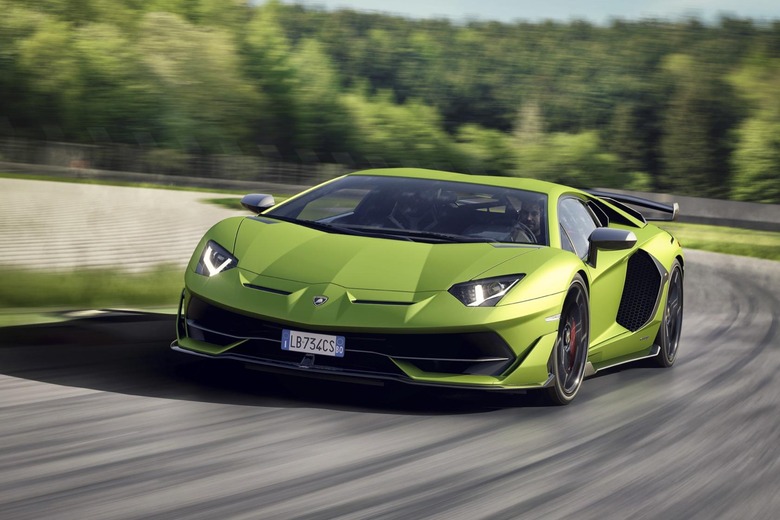 In short, it's the most fearsome, aggressive, and performance-minded Aventador we've seen, and the only downside is the fact that Lamborghini will make just 900 of them. If you're lucky enough to get on that shortlist, you're looking at $517,770 and a wait until the beginning of 2019, when the automaker expects to start deliveries.