Last year we were introduced to the fabulous implementation of the technology Apple now calls Thunderbolt – now the fantastic speed and high-quality video transfer can be yours on legacy devices with LaCie's new eSATA Hub. What you'll be doing with this hub is connecting your Thunderbolt-port-having Apple device to the hub with a Thunderbolt cable (sold separately) and the hub then out to your eSATA drives for the full speed that they'll newly be capable of. Sounds like magic to me!
You've seen these eSATA drives popping up all of last year, they're the LaCie silver drives with the blue light that looks like HAL – Lacie's also been using this look for all of their ThunderBolt-ready peripherals for some time now. What this hub is able to do is bring your eSATA drives in on one box, here "unleashing" their full potential with the 10GB/s speeds of Thunderbolt.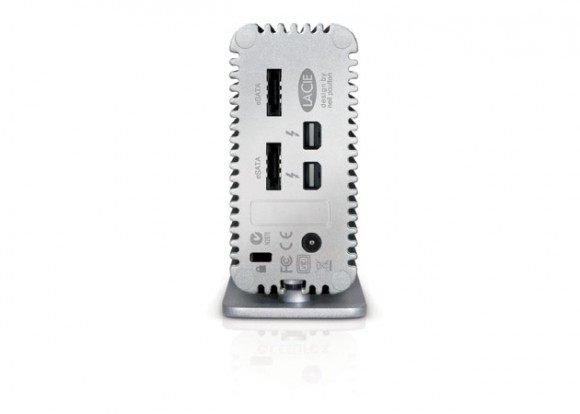 In the back of this device you'll find dual 10Gb/s Thunderbolt ports for daisy chaining, dual eSATA 3GB/s ports, a Kensington Lockm, and a power port – all of this on an enclosure which sits on a removable stand. You can daisy-chain up to six Thunderbolt technology compatible devices at once – LaCie brand suggested, but not required. YOu can also connect up to two eSATA drives (per hub.)
The real value proposal here is getting the "full potential" out of your eSATA drives. They've got the potential to move at 3GB/s, but because the ExpressCard/34 maximum bus speed is 2.5GB/s, you're still going slow. This device brings that extra .5 out to be free. This device will be available starting today for $199.00 at LaCie's online store. Grab a few!