With hardly a week passing without another case of misplaced data cropping up in the headlines, taking steps to secure the contents of mobile storage seems all the more topical. Into the fray steps LaCie's Rugged Safe, a 500GB external hard-drive that promises not only basic bump protection but an integrated biometric fingerprint scanner paired with 128-bit AES hardware encryption. Check out the full SlashGear review after the cut.
A chunky silver box with a black rubberised outer "bumper", the Rugged Safe certainly feels sturdy. It's also relatively large for a portable drive – 90 x 28 x 145 mm and 298g – and while the upper and lower sections may be aluminium, the edges aren't; peel off the rubber band and there's grey plastic there. Ports include USB 2.0, two FireWire 800 and a power input, while slightly recessed on the top is the biometric finger scanner. The two FireWire ports allow for daisy-chaining multiple peripherals. Inside, the 7,200rpm 500GB hard-drive is mounted on rubber bumpers for added shock protection.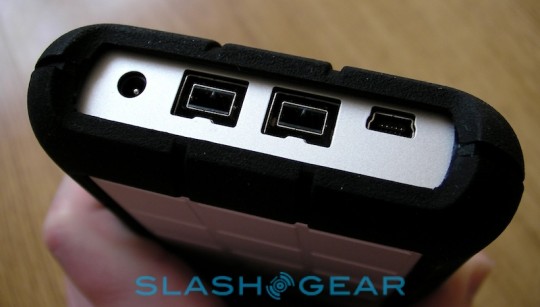 Setup is straightforward, with LaCie preloading their Safe Manager security app for Windows and Mac onto the drive itself. On first plugging in – either with a FireWire 800/400 connection or using the USB 2.0 with, if there's not enough juice coming from a single port, the second USB power cable – you can register up to ten fingerprints. That could be every digit from one user, two digits from five users or a single finger of ten users. These are paired up with a regular alphanumeric password – which LaCie recommend is suitably long and complex – and basically requires swiping a finger three times to give the drive a clear reading. After that, the drive is formatted – FAT32 by default, though you can prematurely quit the setup program and use Windows or OS X to create an NTFS or HFS volume respectively – and then ready to use.
Subsequent computers don't require LaCie Safe Manager be installed: you simply plug in the drive and swipe your finger. A status LED blinks red to show it's ready to accept fingerprints; we occasionally had to re-swipe, but mostly the LaCie accepted our print first time. If you'd rather use your password then you'll have to have Safe Manager installed, however; a pop-up dialog allows you to choose between fingerprint or password authentication. Once either is accepted the drive shows up as a regular removable volume.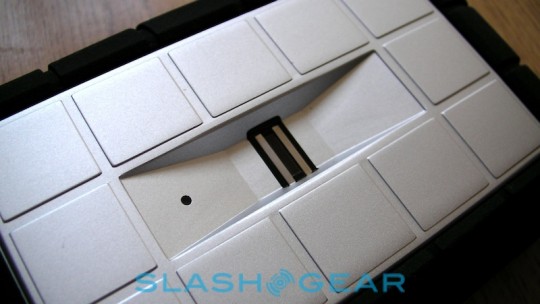 Beyond that, using the Rugged Safe is just like using a normal, non-encrypted drive. As you save data to it, it's automatically secured using 128-bit AES hardware encryption; that means, even if the HDD itself is removed from LaCie's enclosure, your files are still locked up. There's a minor performance impact from the added security, though significantly less than software-based encryption systems. We found the Rugged Safe to be only very slightly slower in read and write performance than a standard USB 2.0 or FireWire 800 drive. Unmounting the drive in Windows or OS X automatically locks it up.
As for the ruggedness, while LaCie bill the drive as resilient to scratches, bumps and knocks, it's a long way off from being a rugged in MIL-SPEC terms. However, it's probably sufficient for most domestic or business use; after being left in a packed bag we couldn't see any noticeable marks on the casing, and nor did the regular bumps of daily travel seem to have any impact on our data. An SSD is always going to be your best bet for dealing with significant vibration or knocks, but of course the flip side is the inevitable cost of solid-state storage.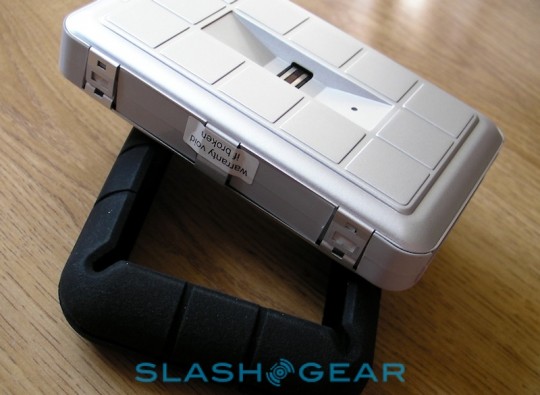 On that front, the LaCie Rugged Safe holds up reasonably well, though it's certainly not the cheapest route to mobile data. The 500GB version has an MRSP of $189.99/£159.99, while the 1TB model – not yet commercially available – will be$299.99/£259.99. A regular, 500GB non-rugged and non-encrypted USB/FireWire drive is around $110-$120; LaCie's own 500GB MIL-compliant (though non-biometric) drive is $159.99. There's free software out there – such as TrueCrypt – which will mimic the security (though without the fingerprint convenience) though with a greater performance impact of course.
Mobile data security is something most of us should consider but few actually put into practice. Given a 500GB external drive can likely hold the majority of our personal documents (and a fair splash of photos, video and other multimedia) with room to spare, that's even more incentive to make sure the contents are locked up. LaCie's premium for the Rugged Safe is relatively minor in comparison to some rival biometrically-secured drives, and the simplicity of the fingerprint system takes the sting out of everyday use. Your ripped Britney Spears MP3s might not be worth the extra cash, but if you're transporting personal information then the LaCie Rugged Safe is an affordable way of making sure it remains for your eyes only.