LaCie Little Big Disk with Thunderbolt now available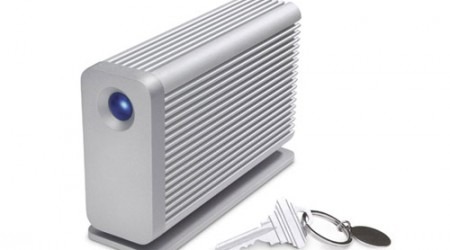 The LaCie Little Big Disk portable external hard drive with the Thunderbolt connector port has finally arrived. The device was first announced back in February when Apple's early 2011 MacBook Pro revamp was confirmed to sport the Thunderbolt port, which was jointly developed with Intel and promises up to 10Gbps of bi-directional transfer speeds and supports daisy chaining.
The Little Big Disk with Thunderbolt will be available in both SSD and HDD versions. The SSD version will feature a 240GB SSD RAID option and has been demonstrated to peak at read speeds of 634MBps, reaching up to 870MBps when daisy chained to a second drive.
The HDD version will feature two 2.5-inch drives with RAID option in either 1TB or 2TB configurations. The 1TB version will feature 7200RPM drives whereas the 2TB version will have 5400RPM drives, which can get up to 190MBps read speeds and can reach up to 782MBps when four drives are connected.
For more images and a video of the LaCie Little Big Disk with Thunderbolt, make sure to check out our hands-on with the device. The HDD version is available now online at the Apple Store, with the 1TB version priced at $400 and the 2TB version at $500. The SSD version will arrive sometime in October, but pricing for it is not confirmed yet.