LaCie LaPlug Promises Simple USB HDD Network Shares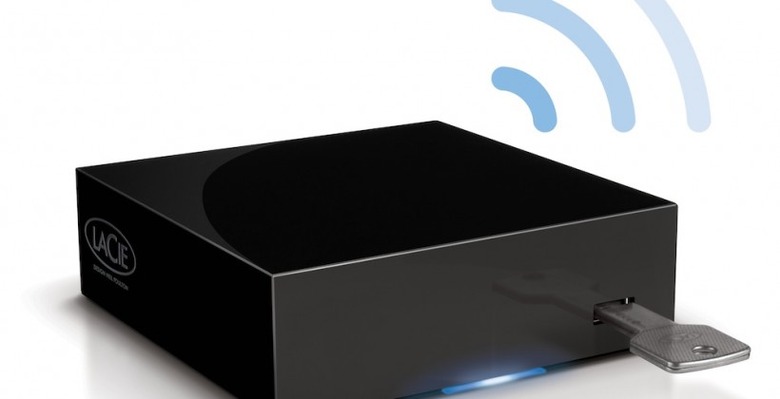 LaCie has unveiled the LaPlug, a straightforward network bridge that can get USB hard-drives and printers shared across your local network and set up for remote access across the internet. Packing four USB 2.0 ports, gigabit ethernet and a WiFi b/g/n connection into one of LaCie's typically discrete boxes, the LaPlug offers DLNA/UPnP streaming to send multimedia content from hooked up drives to your PS3, Xbox 360 or smartphone/tablet.
Three of the USB ports are on the back of the LaPlug, and the fourth is up front for easily connecting a memory stick or portable drive. If you want to use it as a centralized backup station, LaCie bundles PC backup software and the box is compatible with Apple's Time Machine on OS X. FAT32, NTFS, HFS and HFS+ (both journaled and non-journaled) drive formats are supported. It's worth noting that the LaPlug's WiFi only supports client mode, so you can't use it as a router or, presumably, for direct connections between your computer and the drives.
With the demise of the Pogoplug Pro, Pogoplug's WiFi-enabled model, LaCie finds itself offering something relatively rare given the wireless support in the LaPlug. If you're sharing and accessing large files then you'll probably want to use gigabit ethernet anyway, but at $74.99 with both WiFi and wired options, you can't really knock the LaPlug.