LaCie Bolt3 And 6big: Ultra-Fast Desktop Storage With Thunderbolt 3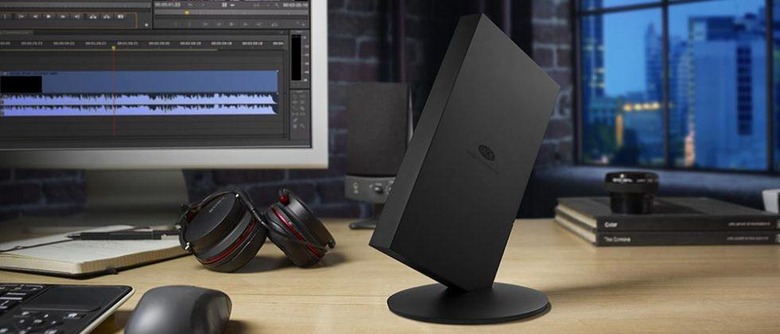 LaCie has two more desktop storage products to go alongside the 12big it announced back at NAB: the Bolt3 and the 6big. All three products (including the 12big) feature Thunderbolt 3 for use with Apple's new MacBook Pros or other supported devices. According to LaCie, these products feature the 'fastest and largest desktop drives' currently available, making them suitable for videographers dealing with 4K content and more.
The smallest of the bunch is the Bolt3, the attractive drive you see above. This model comes in black and is the best choice for those with more modest needs. The model offers up to 2TB of PCI3 SSD storage in RAID 0; the speeds reach up to 2800MB/s, making it suitable for up to 6K-resolution video editing, among other things. There are two Thunderbolt 3 ports, as well.
According to LaCie, the Bolt3 is made to be reliable over the long haul. The unit was CNC machined from solid aluminum, which helps dissipate heat and thusly lends the benefits that come with adequate cooling. This model will be available for $1,999 USD.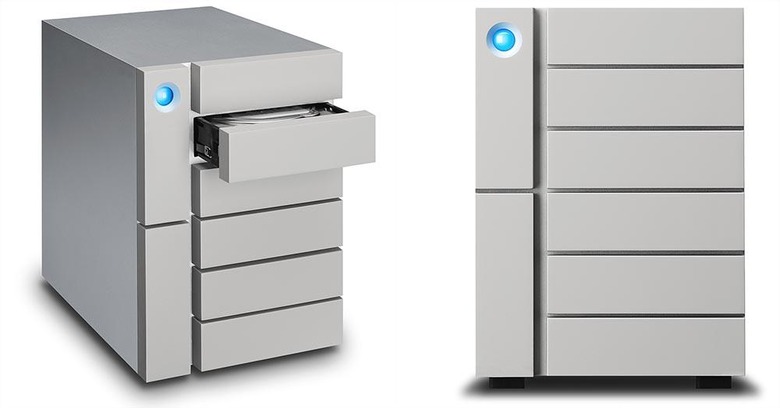 Joining the Bolt3 is the new 6big, the larger silver-colored storage stack you see above. This model features the same design as the even bigger 12big and up to 48TB of storage, making it much more suitable for pro-tier editors and others who deal with massive amounts of data. The speeds reach up to 1400MB/s; there are two Thunderbolt 3 ports, the same as with the Bolt3.
According to LaCie, both the 6big and the 12big feature front-accessible drives for rapid drive replacement. There are status LEDs for monitoring each drives' health status and RAID build status. Likewise, these two models are made from aluminum for heat dissipation, as with the Bolt3.
The 12big, of course, has its own features, namely faster speeds that go up to 2600Mb/s, making it more suitable for 6K-resolution video rather than 4K. As well, the 12big supports up to 120TB of storage, and features two Thunderbolt 3 ports. The LaCie 6big case will start at $3,199 USD, and the 12big will start at $6,399 USD. All three models start shipping to buyers some time this quarter.
Given how pricey and important these devices are (when loaded up with mass amounts of data, that is), LaCie has partnered up with Pelican Products, which is offering custom cases for both the 6big and 12big models. The cases are the Pelican Storm model, which is made from injection-molded HPX high-performance resin. According to the company, this case is "virtually unbreakable." The case costs $349 USD.