LaCie Big Disk Network and d2 Network with BitTorrent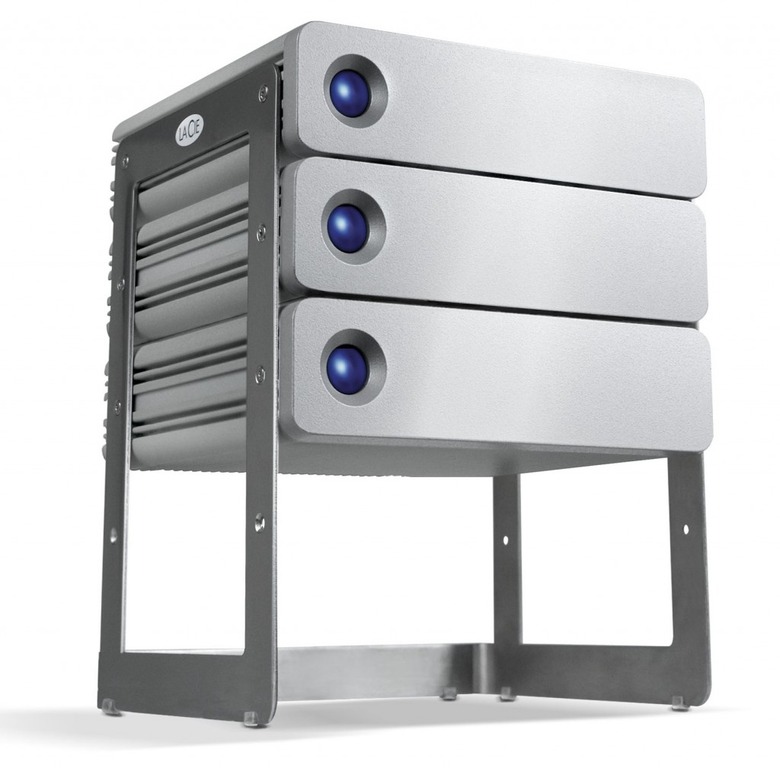 LaCie have announced two new storage servers intended for small workgroups.  The LaCie Big Disk Network and d2 Network can each support up to 50 users (15 simultaneously), with the Big Disk having dual RAID 0 drives for up to 4TBs capacity, while the d2 Network has 1.5TB of its own storage plus an eSATA port for adding external high-speed drives.
Both drives also have a USB port, which can be used to add hard-drives either to expand overall capacity or make a backup of your backup for storing elsewhere.  It's not all good news for dry network admins, either: the Big Disk and d2 Network each support UPnP and DLNA media streaming.
There's also an integrated BitTorrent client for standalone downloads, and a comprehensive admin panel that lets you assign users and groups.  Both drives are available now, with the LaCie Big Disk Network priced at $379.99 and the LaCie d2 Network priced at $189.99. 
Press Release:
LaCie Introduces Two Network Storage Servers for Workgroups

Compatible with Time Machine TM
Stream multimedia content to your UPnP devices
Advanced aluminum heat-sink design
Extremely quiet and energy-efficient

LaCie announced today the availability of two new high capacity Network Attached Storage (NAS) solutions – Big Disk Network and d2 Network. These professional file servers are optimized for users to instantly store, share, and back up files, from any PC or Mac on a wired or wireless network. LaCie's new NAS solutions deliver high-performance and professional-class reliability, in an easy-to-use network solution for the home or small office.

The d2 Network supports up to 1.5TB capacity, while the Big Disk Network combines two drives in a RAID 0 setting, for up to 4TBs of storage. Both NAS solutions are perfect for advanced users or small to medium sized offices that want to develop workgroup environments for up to 50 users (15 at one time). Network administrators can choose from various security levels for user profiles, groups, and public or guest access. Users can connect an external USB drive to increase security through scheduled backups, or even expand capacity. The d2 Network also includes an eSATA connection for storage expansion.

In addition to high-performance hardware, LaCie's NAS solutions offer a comprehensive software bundle for easy set up, back up and administration. The LaCie Network Assistant enables quick access and configuration of your NAS solution. Both solutions also ship with Genie Backup Manager Pro for Windows and Intego Backup Manager Pro for Mac users, which allow customers to reliably and efficiently backup documents, emails, and other digital assets directly to their NAS device. They also support computer disaster recovery for extra security.

"Data storage needs are becoming increasingly significant in homes and small offices," said Edin Del Mar, LaCie product manager for office network solutions. "The Big Disk and d2 Network provide professional server functionality and large storage capacities that satisfy the needs of any workgroup environment, with superior design and better performance than comparable products on the market today."

The Big Disk and d2 Network integrate easily and efficiently into most small office networks thanks to Active Directory support, which allow the product to seamlessly join Windows domains. It also supports most of the network protocols for Windows and Mac users, including SMB and AFP. Network administrators can take advantage of the Wake-on-LAN (WOL) for turning on the drive remotely, and be sent email alerts for backups, downloads, and risk indicators.

For optimal use in the home, the d2 and Big Disk Network allow users to leverage two convenient usage scenarios without being connected to a computer. The first is the ability to download large files using the BitTorrentTM protocol. The second use lets users play media from the NAS solutions through a UPnP-AV compatible device such as a PS3 or Xbox, directly to a television. Both NAS drives are compatible with any DLNA multimedia device.

Designed exclusively for LaCie by the world-renowned designer Neil Poulton, the Big Disk and d2 Network drives were engineered to maximize reliability and are remarkably compact for their enormous capacity. Its sturdy aluminum body with a unique heat sink design offers natural heat dissipation by providing 60% more surface area. The versatile design allows users to place the drive in an upright or vertical position, depending on the environment. If users desire multiple d2 drives for backup or increased capacity, the drives can be rackmounted using the LaCie d2 rack accessories for desktop and standard 19" IT equipment racks.

Availability and Pricing

The LaCie NAS solutions are available now, with the retail cost starting at $189.99 for d2 Network and $379.99 for Big Disk Network. LaCie products are available through the LaCie Online Store or LaCie Resellers.

About Neil Poulton

Neil Poulton was born in Thurso, Scotland. A graduate in Industrial Design from Edinburgh University and Milan's Domus Academy, Poulton first came into public view in 1989 as the creator of "the ageing pens," pens made from a "living," wearing plastic that changes color and form with use. Today, Neil Poulton designs and develops best-selling, award-winning products for a variety of international clients including LaCie & Artemide. Since 1991, Poulton has lived and worked in Paris, France. www.neilpoulton.com

About LaCie

Located in the USA, Canada, Japan, Australia, Europe, Singapore and Hong Kong, LaCie is the leading manufacturer of computer peripherals for Windows, Apple and Linux users. LaCie creates external storage solutions and color monitors that help professionals and everyday people easily manage their digital lives. LaCie has differentiated its products through original designs and leading-edge technology. Established in France in 1989, LaCie is listed on Euronext under FR0000054314 (LAC). For more information, visit www.lacie.com