La Marzocco Linea Mini embraces coffee geek mainstream (sorta)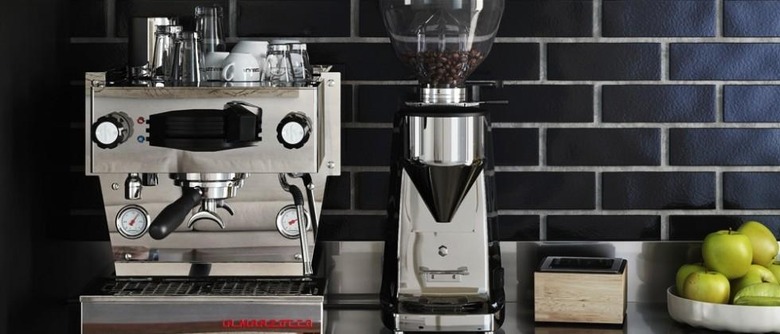 La Marzocco may be famous in coffee but the Italian espresso machine company has never been what you'd call affordable. That's not quite going to change with the arrival of the new La Marzocco Linea Mini, but it will bring the famous nameplate (and some of its most appealing qualities) within reach of a broader enthusiast audience. Distilling the style of the classic Linea – mainstay of many a coffee shop – not to mention its consistency and ease of use into a version scaled and suited to the domestic kitchen, the Linea Mini may still carry an eye-watering price tag but it's potentially a breakthrough in mainstream coffee geekery.
La Marzocco isn't new to the home market. Back in 2007 the company launched the GS3, a pre-spec dual-boiler espresso machine that while capable of pulling back-to-back shots and pumping out serious quantities of steam for milk, was also relatively portable and could be run off a regular 110V domestic outlet.
Last November, the GS3 made moves to embrace regular consumers even more, centerpiece at La Marzocco Home where customization to suit your high-end kitchen was tightly integrated into the purchase process. The lingering problem remained, however: with pricing in the region of $7k, it was out of the reach of even keen espresso enthusiasts.
The Linea Mini aims to address that. La Marzocco will offer it alongside the GS3, but priced at $4,495 in the US. For that, you still get double boilers, superlative build quality, the convenience of an onboard 3.5L water-tank (rather than requiring plumbing), and even a tactile paddle control rather than just regular buttons.
Footprint is relatively compact, too, with the Linea Mini coming in at 14-inches wide and 21-inches deep, and there's an LED light bar to illuminate your espresso as it trickles out.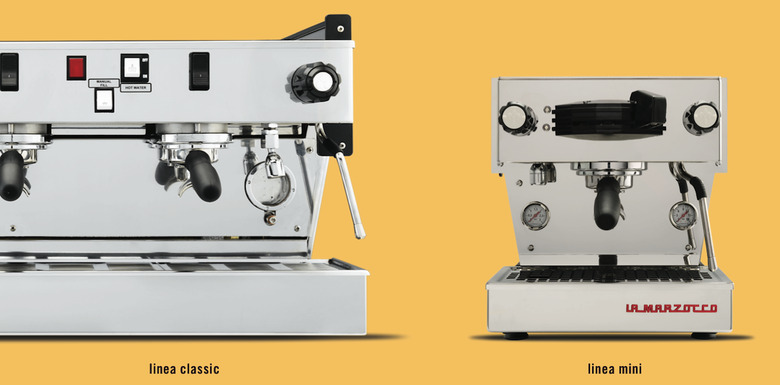 There are some compromises, mind. That paddle, Coffee Geek observed in a preview with the machine, is actually more for aesthetics than anything so complex as user-adjustable preinfusion or pressure control: it effectively just operates a microswitch inside. While the boiler temperatures are PID controlled for greater accuracy, there's no way to dial in a specific brew temp: instead, a small dial on the side simply makes things hotter or cooler.
Meanwhile, although La Marzocco will offer a plumb-in kit for the Linea Mini, it's not going to be as easy to install as on the GS3. Instead, the focus is on consistency of temperature, boiler pressure, and built quality.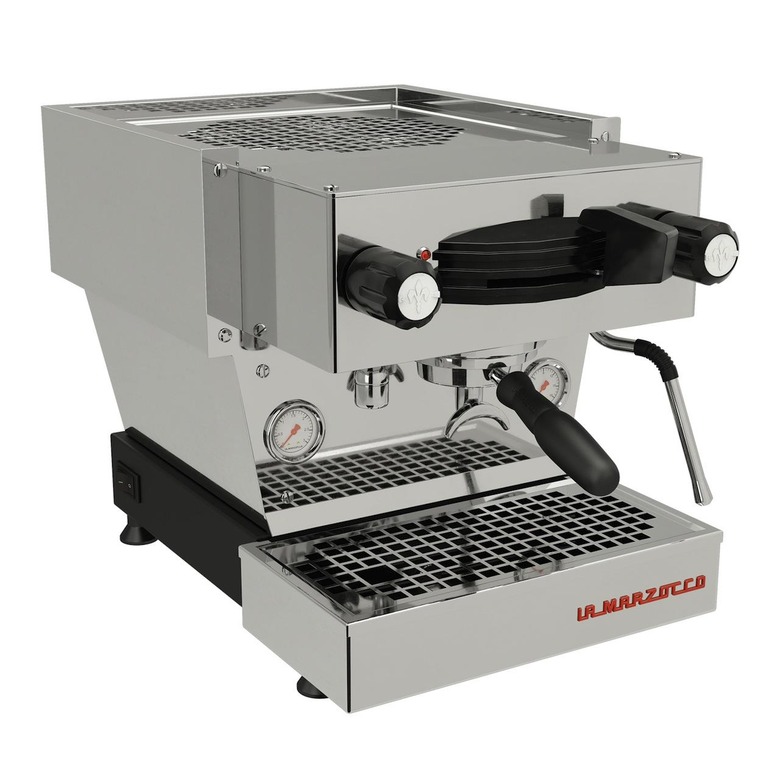 In short, while the GS3 will probably remain the domestic La Marzocco fan's machine of choice for tinkering with brew temperatures and venturing on coffee bean adventures, the Linea Mini is for those who simply want to iron out the variabilities from their cup. The company is promising speedy heat-up times, too, and unlike just about all prosumer and commercial machines, you're not apparently expected to keep the Linea Mini turned on at all times, which should also mean some power savings.
It's undoubtedly still a luxury purchase, but then again high-end coffee always has been. The La Marzocco Linea Mini is up for order from today, in a choice of black, red, white, or polished steel finishes, and will begin shipping in May.
SOURCE La Marzocco
MORE CoffeeGeek