La Guitare à Crayon: Wacom Meets Acoustic Guitar [Video]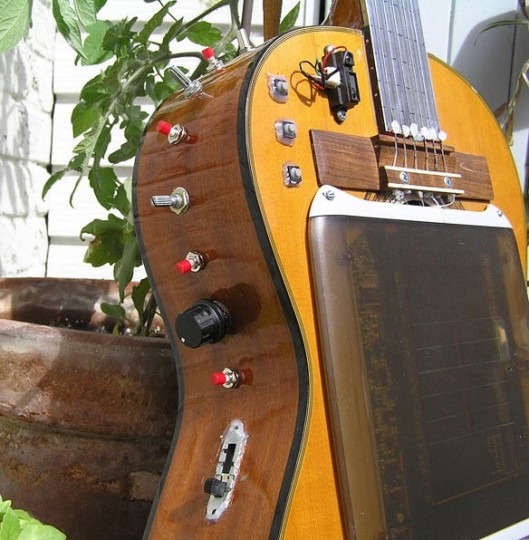 An acoustic instrument bristling with buttons and knobs is always off to a good start, but Patrick Sébastien Coulombe's "la Guitare à crayon" goes a few steps further into strangeness.  Taking the body of an acoustic guitar and then strapping a Wacom digitizer to the front, the unusual instrument translates sketched images into sound.
Video demo after the cut
The open-source project uses Pure Data and GIMP to mangle together the two art-forms, and different areas of the tablet affect different aspects of the sound.  You can also have some fun on the fret-board, too, though it's not incredibly clear in the video.
One preset uses the X-axis to control octave and Y-axis to control different effects; there are both analog and digital inputs, and an infra-red distance sensor that can act as another trigger.  Interestingly the USB guitar doesn't even need drivers, as it has a custom bootloader.  Right now the source-code isn't online (because Coulombe isn't sure there's all that much interest in it) but if enough people decide to weld their art equipment to their instruments then he'll upload it all. 
[via Hack a Day]