Kyocera DuraForce PRO enters the fray with HD action camera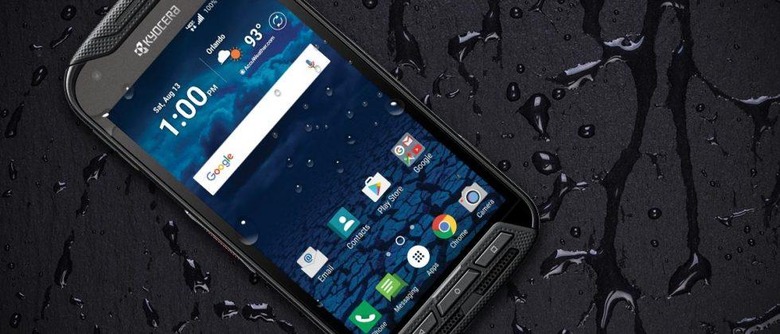 Kyocera has announced the next entry in its lineup of rugged smartphones, introducing the world to the DuraForce PRO today. Like most Kyocera smartphones, this will come with all the standard rugged features you've been accustomed to – dustproofing, waterproofing, and a general build quality capable of taking some hits – but one of the main draws of this device might end up being the DuraForce PRO's "Super Wide View HD Action Camera."
It looks like Kyocera might be making a play to pull people away from GoPro and the rest of the competitors in the sports and actioncam space, saying that its 1080p camera "offers functionality once reserved for dedicated action camera devices, including underwater operation mode." The company also says the DuraForce PRO can be used with existing action camera mounts, so no worries there.
Action camera aside, the phone will feature a 13-megapixel rear shooter and a front-facing 5-megapixel camera, along with a 5-inch 1080p display and an octa-core Qualcomm Snapdragon processor. The phone will be sporting an IP68 rating for waterproofing (meaning it can survive up to 30 minutes in up to two meters of water), while the overall ruggedness of the phone will meet Military Standard 810G. In other words, protection against dust, shock, extreme temperatures, and a whole host of problems will be present.
Rounding out the feature list is a 3,240mAh battery which, given the phone's water and dustproofing, is non-removable, 2GB of RAM, a pair of front-facing speakers, and a fingerprint scanner on the phone's power button for biometric authentication.
Beyond those who need a rough-and-tumble phone, Kyocera is also targeting this device at enterprise clients. The DuraForce PRO will support Android for Work, and Kyocera is currently going through the Common Criteria certification process so the phone can be used by government agencies. The company also says it will work with a number of accessory makers, which will allow the DuraForce PRO to be customized for use in specific industries.
The DuraFORCE PRO will be available this autumn, with no specific release date or pricing information given in Kyocera's announcement.