Kurt Cobain's "Montage of Heck" documentary and the mixtape therein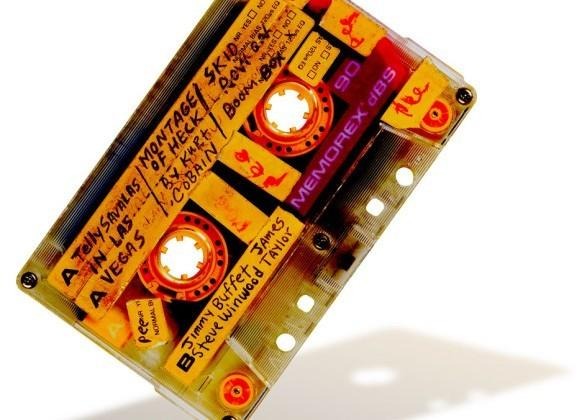 The mixtape known as "Montage of Heck" is the centerpiece – the namesake – of the documentary (coming to the public soon) about Kurt Cobain. Inside this mixtape is a cacoffiny of oddities. Everything from KISS to The Hobbit, the Star Wars audiobook to Queensrÿche. It's not your average mixtape. The same is true of the documentary. Created using home movies, tapes, concert footage, and other unseen bits of footage and audio, the creators of Montage of Heck have made a showing of the lead singer of Nirvana's life – and subsequent violent death.
The documentary Montage of Heck is an authorized documentary. That means it was made with the authorization of those that own the rights to Cobain's ... remains. That means Courtney Love.
You'll find a collection of creative people speaking in this trailer for the documentary as well. Love, Dave Grohl, Krist Novoselic, and a few more. Executive producers include Frances Cobain*, Debra Eisenstadt, Sheila Nevins, Dave Morrison, and Sara Bernstein.
*That's Frances Cobain, Kurt and Courtney's only daughter.
This film was directed by Brett Morgen and was released to UK cinemas last month.
You'll be able to see it on HBO on May 4th, 2015. After that, it'll be distributed digitally by Home Box Office (USA) and Universal Pictures.
The following "audio samples used" list was attained by Live Nirvana and passed on to you here in text form. This is what's on the Cobain-made tape created in the year 1988 by the burgeoning Nirvana-leading legend.
• "The Men In My Little Girl's Life" by Mike Douglas
• "The Sounds of Silence" by Simon & Garfunkel
• "Being for the Benefit of Mr. Kite!" by The Beatles
• "A Day In The Life" by The Beatles
• "Eruption" by Van Halen
• "Hot Pants" by James Brown
• "Gypsies, Tramps and Thieves" by Cher
• "Go Away Little Girl" by Donny Osmond
• "Rocky Mountain High" by John Denver
• "Everybody Loves Somebody" by Dean Martin
• "The Candy Man" by Sammy Davis, Jr.
• "In A Gadda Da Vida" by Iron Butterfly
• "Wild Thing" by William Shatner
• "Taxman" by The Beatles
• "I Think I Love You" by The Partridge Family
• "Are You a Boy or Are You a Girl?" by The Barbarians
• "Queen Of The Reich" by Queensryche
• "Last Caress/Green Hell" covered by Metallica
• "Whole Lotta Love" by Led Zeppelin
• "Get Down, Make Love" by Queen
• "ABC" by The Jackson Five
• "I Want Your Sex" by George Michael
• "Run to the Hills" by Iron Maiden
• "Eye Of The Chicken" by Butthole Surfers
• "Dance of the Cobra" by Butthole Surfers
• "The Shah Sleeps in Lee Harvey's Grave" by Butthole Surfers
• "New Age" by The Velvet Underground
• "Love Buzz" by Shocking Blue
• Orchestral music from 200 Motels by Frank Zappa
• "Help I'm A Rock" / "It Can't Happen Here" by Frank Zappa
• "Call Any Vegetable" by Frank Zappa
• "The Day We Fall In Love" by The Monkees
• "Sweet Leaf" by Black Sabbath (intro)
• Theme from The Andy Griffith Show
• Mike Love (of The Beach Boys) talking about "Transcendental Meditation"
• Excerpts of Jimi Hendrix speaking at the Monterey Pop Festival
• Excerpts of Paul Stanley from KISS' Alive!
• Excerpts of Daniel Johnston screaming about Satan
• Excerpts from sound effects records
• Various children's records (Curious George, Sesame Street, The Flintstones, Star Wars).
• "The Landlord Is A Piece Of Sh** From Hell" – demo (short version only)
• "Blandest" – studio version (brief snippet in short version only)
• "Help Me" – demo (brief snippet in long version only)
• Unidentified Song – demo (near the end of the long version only)
• "Gypsies, Tramps And Thieves" – jam w/ Dale Crover (at the very end of the long version only).
• Somebody taking a pee (probably Kurt)
• Kurt vomiting into a toilet
• Krist ranting about having some pot and whiskey
• Kurt moaning and various other distorted vocal sounds
• Kurt imitating James Brown
• Kurt mimicking some foreign vocal music
• Various phrases muttered by Kurt
Also note that there are two tapes in the universe, one about 36 minutes long in stereo, and another in mono about 8 minutes long. If you have access to the audio on these tapes, by all means, let us know.