Kuel H10 H12 stylus pens review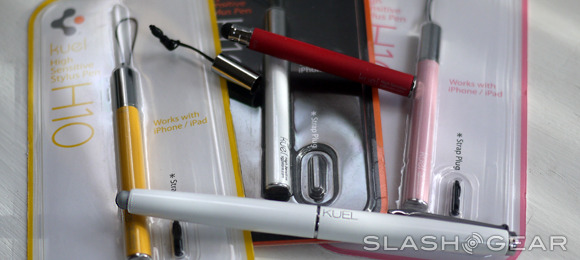 There are so very many stylus pens out there in this digital world of ours that it's difficult not to get lost in the fray, finding yourself picking up a pen that's just not going to get the job done once you're home and painting away. What Kuel has done here is to relieve you of the burden of finding your favorite pen by providing two options, both of them fabulously simple and high quality. The H10 pen is one that comes in a handful of different colors and utilizes a lovely top with strap plug so that you'll have it on hand while you're drawing, and the H12 pen resembles a real ink pen so it'll fit right in with the rest of your writing utensils.
The hardware thats being used here is the bit we're going to focus on, the software being part of a 3rd party: KRINK if you'd like to know is what we're using for this example – downloadable in the iTunes Appstore now for both iPad and iPhone. The hardware being used here on the pens consists of smooth plastic* for the shaft, and extendable back bit incase your hands aren't suited to crayon-length pens, and a pen tip made with high polymer abrasion-resistant coated silicon.
[vms dc6853edfa4c7e1638b4]
*The plastic is just the coating, and we can only assume it's something like plastic as the innards are actually made of brass, this offering you an ultra light weight pen in the end with a smooth grip. The Strap Plug they tell you on the package should not be used to hang your pen from your device, only then made to keep the cap in place while you're writing, but between you and me, you don't have to tell anyone you're doing it. Know this though: if you get the tip stuck in there then while doing something you're not supposed to do, you're on your own! I should also note that though I use these pens on the iPad 2 and iPhone 4S in the demo video, they work with all manner of mobile devices be they Galaxy Tabs, LG smartphones, Windows Phones by HTC, or the ASUS Transformer Prime – basically anything you can think of along those lines will work, smartphones and tablets galore.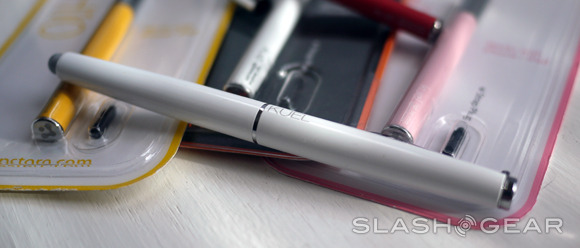 That said, the H12 pen has very similar specifications, with a full-length pen on your hands instead of an extendable bit, and it's here in classy white if you'd like to know. Both of these pens are available in the Spigen SGP store right this second. The Kuel H10 comes in yellow, pink, red, black, and white and will run you a cool $12.99, while the Kuel H12 will cost you just a bit more at $19.99 but comes in several classy colors and a lovely form factor as well: black, gray, or white.