KRE-O to unveil licensed Star Trek building sets at Comic-Con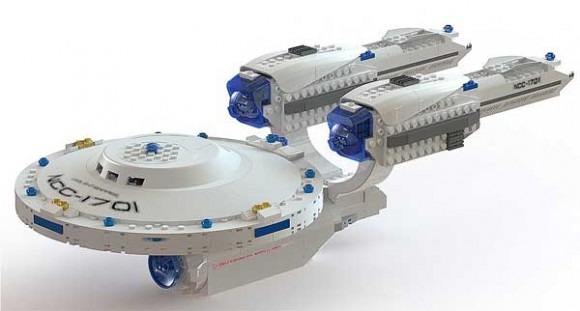 For a long time if you wanted a blocky building set, Lego was the only way to go. Hasbro launched its own block building set line a year or so back called KRE-O. Some of the first building sets that were offered under the KRE-O brand were Transformers sets. KRE-O has announced that it will be officially unveiling its new licensed Star Trek sets at Comic-On on July 11.
Hasbro is giving a tease of what the building sets will be like with an early look at the KRE-O USS Enterprise building set. The building set is based on the Star Trek film sequel from Paramount pictures and is under license from CBS Consumer Products. The Enterprise building set isn't the only set to be offered in the collection.
There'll be a variety of vehicles along with KREON figures based on iconic Star Trek characters. KREON figures are the KRE-O versions of Lego minifigs. The three characters we know will be offered include Kirk, Spock, and Bones. Other branded building sets will also be shown off at Comic-Con starting July 11.