Korg Monotron DUO and DELAY tiny synthesizers available now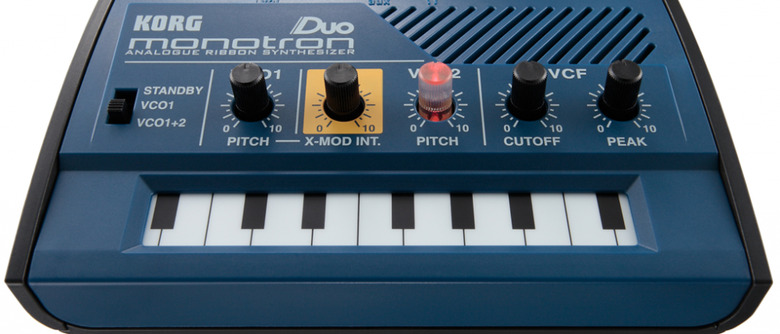 The folks at Korg have released a bit of info on a couple more tiny keyboards, synthesizers to add to the already awesome hero original Korg Monotron with the Monotron DUO and the Monotron DELAY, both of them an unbelievably inexpensive way to get unique custom-tweaked musical notes to your fingertips. We've already reviewed the original Korg Monotron, so you should have a pretty good idea of what you're getting into here with these two new models. Each of these little beasts have their own set of features and colors to make them unique enough for you to want to own the whole series.
Each model has a front panel with five knobs and a front-panel switch, these controls giving you hands-on analog sound control across the board. Each unit has a ribbon keyboard, this allowing you to make separated sounds if you like, or gradients of moving sound with a slide of your fingertip. The entire Monotron series uses the same VCF circuit as Korg's classic MS-10 and MS-20 semi modular synthesizers, each of them born over 30 years ago. All units have audio-in, as well, this allowing you to bend the sounds of any instrument that can be converted to the single jack.
The Monotron DUO has two oscillators, each with its own separate tuning and with the ability to together create what Korg describes as a "rich, thick, analog tone." Inside is the X-MOD cross modulation circuit as also found on Korg's classic Mono/Poly, this allowing you to get wild edges to your sound if you wish, this instrument delivering everything from metallic sounds to vibrato to bust your eyeballs out. The ribbon can be set to be a Minor, Major, or Chromatic scale on the fly.
The Monotron DELAY has the analog oscillator, the LFO, the filter, and a fabulous "Space Delay" effect that works with equipped Time and Feedback. Pitch changes as you delay the time, and the delay can be added to any external sound via your Aux In jack once again. On the back is a trim pot to adjust the shape and direction of your wave, and the keyboard ribbon has another four-octave range. Also this Monotron glows under blacklight – why not!?
Each of these units, including the original Monotron, the DUO, and the DELAY, are available now for MSRP $70. Grab em all, why don't you!