Korg Mini Kaoss Pad 2 Dynamic Effect Processor revealed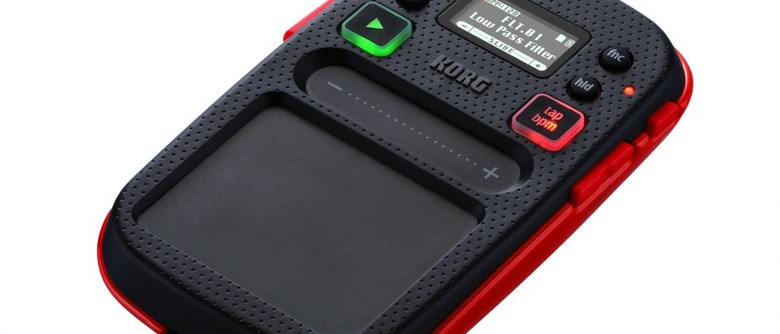 There's a tiny audio distorting monster on the block, and it's name is Kaoss, Kork Mini Kaoss Pad 2 Dynamic Effect Processor for short, and it comes complete with the features you need to turn your DJ station into a massive fingertip express. What this device does it takes your finger tapping, pressing, pushing, and pulling into its tiny computer brain and makes your motions into beautiful noises on the fly. You'll be following in the steps of such fabulous devices as the Kaoss Pad Quad and the Kaoss Pad KP3 with this most lovely of pocketable tappers.
This device is made with an undeniably simple industrial design, made for what it's made for and nothing more. Inside is a microphone, high-visibility organic electroluminescent (OEL) display up top, and the ability to accommodate what they say will be nearly any audio source. Battery power in this device is rechargeable, there's an MP3 player aboard, FX Release, and a microSD card slot. Also built in is 100 effects right out of the box including Flanger, Filter, Delay, Reverb, as well as a selection of new and advance effects like Looper, Vinyl Break, and Ducking Compressor.
This device can recall up to three effects from memory, there's a hold function to freeze your effects without effort, and auto BMP detection allows you to sync tempo-based effects to the tempo of a song – professional sounds at a tap. The 1/8-inch audio output can be used as a headphone output if you wish, and the energy-efficient design allows you to roll with two AA-batteries – again, make sure to grab yourself some rechargeable units here. Six audio examples are also stored in the device right out of the box for demo use.
You can grab the Mini Koss Pad 2 Dynamic Effect Processor and MP3 Player in May of 2012 for the cool price of MSRP $220.00. Sound like the little beast for you?