Konami leaving the AAA games business (save soccer)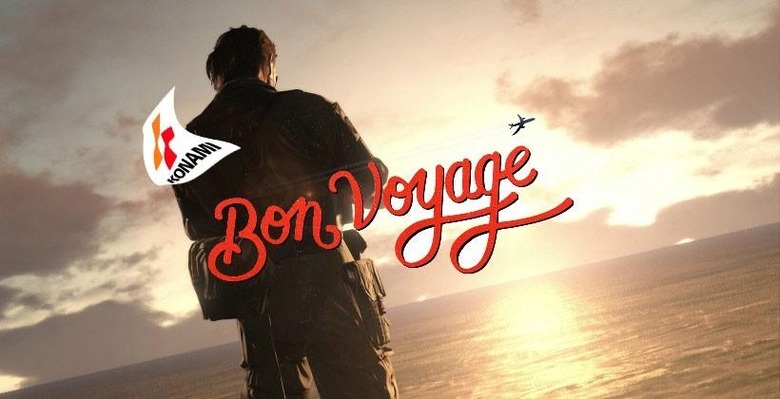 No more Metal Gear Solid from Konami – that's what the publisher is said to be executing this season. Right after the release of Metal Gear Online, that is – that'll take place October 6th. Earlier this morning it was made official that Fox Engine (the engine behind Metal Gear Solid) director Julien Merceron was leaving the company, and now it's become apparent that they're leaving MGS behind entirely. They'll still be making Pro Evolution Soccer... so don't worry about that.
Earlier this year Rika Muranaka, composer on Metal Gear Solid 1, 2, and 3, spoke up on why Hideo Kojima – creator of Metal Gear Solid – found himself in a battle with Konami, and why they eventually split ways. After MGS 5: the Phantom Pain, there will be no more Konami / Kojima productions, and no more Metal Gear Solid with Konami on the packaging. At this time we're unsure of the future of Metal Gear Solid games.
Muranaka spoke with Clayton Daley, gaming reporter, interviewer, reviewer, and podcast host. You can listen to the whole podcast in question on YouTube. In that podcast, translated from French, they suggest that "In [Muranaka's] eyes, Kojima's a fantastic creator, and probably the best creator of his time, but he doesn't have a strong business sense like Konami would like him to have."
"The main reason for the falling out, at least in [Muranaka's] opinion, is that Kojima gets paid a salary, and doesn't make any profit share on the game."
"[Kojima] gets paid a certain amount no matter what, and he was spending so much money and delaying the project, and adding all these features and making sure the game was the biggest and best thing it could be, and Konami was unhappy with that because [delaying] has no effect on him."
Remember that all of this comes from Daley who interviewed Muranaka, not Konami directly.
Konami suggested earlier this year that the only AAA games they'd be producing from this point forward was their Pro Evolution Soccer series and Metal Gear Solid. No Silent Hill. Now, according to VG24/7 no Metal Gear Solid, either. Eurogamer corroborates on the report, suggesting that Merceron's exit from the company comes because he was unhappy with Konami's move away from the console market towards mobile gaming.