Kohjinsha SK3 UMPC hits Japan: decent price but rubbish battery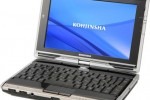 Kohjinsha's SK3 UMPC, which we saw yesterday, has been officially launched in Japan.  The 7-inch touchscreen SK3 gets an Intel Atom 1.33GHz processor paired with 1GB of RAM and a 60GB 1.8-inch 4,200rpm hard-drive; there's also WiFi b/g/n, Bluetooth 2.0 and GPS.
As expected there are also dual cameras, a low-resolution webcam by the screen for video calls, and a 3-megapixel version presumably for still shots.  Ports include ethernet 10/100, VGA, audio in/out, a microSD slot, two USB 2.0 ports, multiformat card reader and an ExpressCard 34 slot. 
It's also impressively smaller than its SC3 predecessor, at 193 x 132 x 30 mm, and weighing just 720g.  Kohjinsha are suggesting 3.2hrs runtime from the 17Wh battery in the Jeita test, a test known to produce over-ambitious results.  Steve from UMPC Portal (who, frankly, we trust about battery runtime estimates more than we ever did Jeita) is guesstimating at between 2 and 2.5hrs of real-world use, which is a real disappointment.
Still, we won't argue with more options in the ultramobile touchscreen category, and we've a feeling Japanese customers won't either when the Kohjinsha SK3 goes on sale there.  It's expected to be priced at the equivalent of around $733, including local taxes.
[via UMPC Portal]