Kohjinsha SK3 7-Inch Touchscreen Netbook Gets Video Unboxing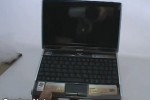 Kohjinsha's SK3 UMPC landed quietly in Japan back in June, and since then we've heard little about the 7-inch touchscreen convertible.  Happily the team over at Conics have been able to source at least one SK3, and they've shared the video unboxing with us.  Let's just say, unless they have particularly large hands at Conics, the little Kohjinsha really is tiny.
Video after the cut
Kohjinsha have obviously used their history of making compact convertible touchscreen devices well, as the SK3 has all the shortcut buttons, well-placed controls and sturdy hinges you'd hope for.  It's obviously smaller than ASUS' Eee PC T91 – which has a larger, 8.9-inch display – and that will have an impact on usability; however it will also make it more portable, and as everybody knows the real enemy of mobile devices is leaving them at home.
If you've been tempted enough to consider buying an SK3 yourself, Conics have them in-stock and priced from $769.  That gets you an Intel Atom Z520 1.33GHz processor, 60GB hard-drive, 1GB of RAM and both WiFi b/g/n and Bluetooth.