Kohjinsha SC3 & SX3 Atom-powered ultraportable Tablet PCs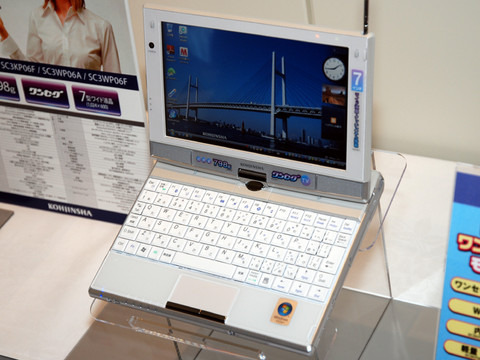 Kohjinsha are no strangers to the pages of SlashGear, and given their track record of producing interesting ultraportable tablets it's little surprise that they've had a try at Atom-based ultraportables.  The SC3 and SX3 are two compact convertibles, the former with a 7-inch 1024 x 600 touchscreen and the latter with an 8.9-inch 1280 x 768 touchscreen, both using the 1.33GHz Atom Z520 CPU.  Each has 1GB of RAM and a 60GB hard-drive.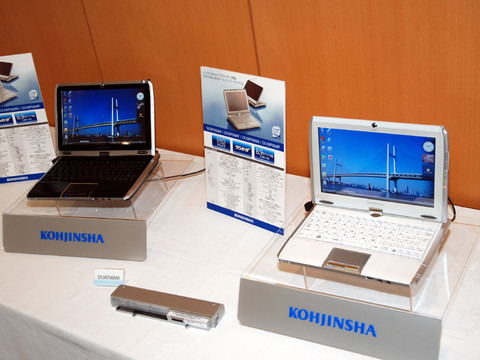 Your decision between them would have to be based on how much you value an onboard optical drive.  The larger SX3 – which rocks in at 225 x 185 x 22-33mm and 1,250g – has a Super DVD-Multi drive and dual cameras, but the SC3 has just one webcam but Bluetooth and GPS (on top of the WiFi and ethernet they both share).  The SC3 measures 189 x 155 x 25-33mm and weighs 820g.  Each has an ExpressCard slot, a couple of USB ports and VGA out.
Battery life depends on whether you choose the standard or extended packs; the SC3 manages 3.2 or 6.4hrs respectively, while the SX3 musters 4.2 or 8.2hrs.  OS is Vista, and the SC3 is selling for 550 to 650 Euros in Japan while the SX3 goes for 650 to 800 Euros.  Alternatively, DFJ-Store.com are offering pre-orders for delivery at the end of July with free international shipping; you'll pay $989 for a basic SC3 (black, with no Bluetooth or GPS), $1,049 for an SC3 with Bluetooth and GPS, or $1,199 for a black or white SX3.