Kohjinsha PM MID vs. Sharp PC-Z1 NetWalker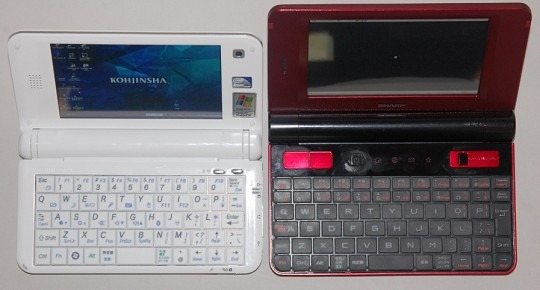 MIDs are, despite the extra attention Viliv's range has drawn to the segment, still very much a niche within a niche, but most of us can at least admire the hard work that goes into squeezing a full PC into a tiny little chassis.  It's with that in mind that we've been enjoying PC Watch's comparison photoset of the Kohjinsha PM MID (aka the UMID mbook M1) versus Sharp's PC-Z1 NetWalker.
As you can see, the PM is a little thicker than the NetWalker, but the Sharp is longer and deeper.  The edge-to-edge keyboard on the PC-Z1 means there's more space for slightly wider buttons, together with a sixth row of function keys; Sharp have also squeezed in an optical mouse, whereas with the Kohjinsha you'll be relying on the touchscreen for navigation.  That could make two-handed use frustrating.
PC Watch found the Sharp more spacious and easy to use, especially as its hinge opens wider than that of the Kohjinsha.  They appreciated that the PM is fanless and silent, though, plus the lengthy battery life.  We're still waiting from Sharp and Kohjinsha to see whether these two products will ever be officially offered in the US and Europe, rather than through importers.