Kodak PLAYTOUCH point-&-shoot 1080p camcorder outed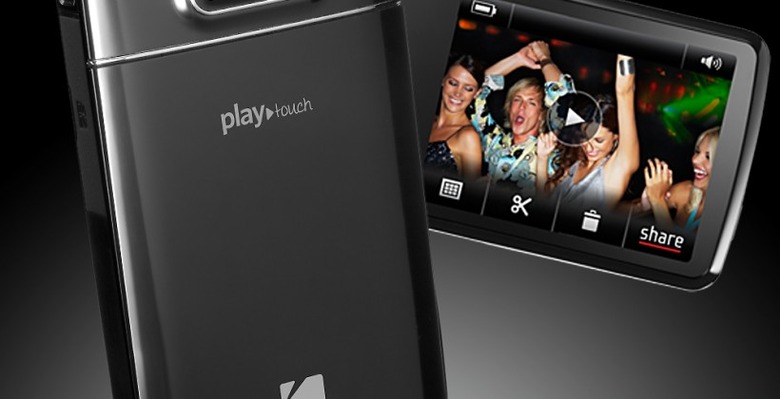 Forgive us, Kodak, but calling your new PLAYTOUCH video camera makes it sound like a bra.  If you can get past the daft name, the PLAYTOUCH seems a decent little pocket camcorder, with a 3-inch capacitive touchscreen, on-device editing and Full HD 1080p recording.
It'll also shoot 5-megapixel stills, has an SD/SDHC card slot which – with a 32GB card in place – allows up to 10hrs of footage to be stored, and a pop-out USB arm for cable-free connections.  Digital image stabilization and four preloaded special effects round out the main functionality, though there's also a Kodak Share button for designating particular shots and clips for uploading to Facebook, YouTube or other social networking sites when you next plug the PLAYTOUCH in.
The Kodak PLAYTOUCH will hit the US this fall, priced at $229.95.  It'll be available, like all good bras, in black, magenta, orange and teal.
Press Release:
KODAK PLAYTOUCH Video Camera Lets You See and Be Seen with Intuitive 3-Inch Touchscreen and Optimized HD Playback

Rochester, NY, Aug 23 — Eastman Kodak Company today introduced the new KODAK PLAYTOUCH Video Camera, a sleek and stylish addition to its award-winning digital video camera portfolio. The pocket-size KODAK PLAYTOUCH Video Camera features a 3-inch capacitive touchscreen so consumers can easily glide through their HD videos with the swipe of a fingertip. With new on-camera editing and Kodak's exclusive Share Button, the PLAYTOUCH Video Camera makes it easy for consumers to share their favorite moments with friends and family in full 1080p HD.

Complementing its unique design, the KODAK PLAYTOUCH Video Camera boasts an array of features to help consumers capture their memories with clarity and precision, including built-in image stabilization, LCD glare shield, and an external microphone jack. To make sharing videos simpler, the PLAYTOUCH Video Camera has a built-in USB arm and Kodak's Share Button lets consumers tag videos and pictures directly on the camera for automatic upload to popular social networking sites once they connect the camera to the computer.

"Kodak has firmly established itself as a leader in the digital pocket video camera space since introducing its line in 2008, and continues to be one of the most highly rated and recommended in this category," said Phil Scott, Vice President of Marketing, Digital Capture and Devices, Kodak. "We're committed to providing our consumers with innovative and intuitive products that satisfy their needs. Whether it's a night out on the town with friends or your child's school play, the KODAK PLAYTOUCH Video Camera makes capturing and sharing your favorite moments simple and fun."

KODAK PLAYTOUCH Video Camera Features:

Share Button for easy video upload to YOUTUBE and FACEBOOK sites, and email

3-inch capacitive touchscreen LCD optimized for reviewing in landscape mode for the ultimate 1080p HD video sharing experience

On-camera editing features to trim and extract still pictures from video

5 MP HD still pictures

Sharper videos and less blur with built-in digital image stabilization

Built-in USB arm for easy sharing, charging, and transferring

Smart face tracking technology

LCD glare shield feature

External stereo microphone jack to add high-quality sound to videos or to plug in headphones for discreet playback*

4 capture effects, including B&W, sepia, high saturation, and '70s film look

HDMI output (HDMI cable included)

Up to 10 hours of HD video** with expandable SD/SDHC card slot (up to 32 GB)

Li-Ion rechargeable battery with in-camera charging

PC and MAC iLIFE product compatibility

The KODAK PLAYTOUCH Video Camera will be available in Smoke Gaze (Black), Chrome, Wine Country (Magenta), Cabana (Orange) and Spa Blue (Teal) for US $229.95 MSRP this fall at major retailers and Kodak.com.***

KODAK Digital Video Camera Portfolio

Whether you have an appetite for adventure or want to be the paparazzi of your social circle, Kodak has a pocket video camera for everyone. In addition to the KODAK PLAYTOUCH Video Camera, Kodak's robust line of digital video cameras also includes the award-winning KODAK PLAYSPORT Video Camera – a rugged, waterproof HD pocket video camera designed for adventure seekers. The perfect travel companion, the KODAK PLAYSPORT Video Camera captures full 1080p HD video – even underwater up to 10 feet – with the touch of a button. Kodak is also now offering the KODAK Mini Video Camera, an ultra-thin and lightweight camera about the size of a credit card, available at leading retailers and Kodak.com.

Product Accessories

A range of accessories are available for Kodak's pocket video camera portfolio including:

New KODAK Floating Wrist Strap for the KODAK PLAYSPORT Video Camera

New KODAK Gripping Tripods available this fall

KODAK SDHC Memory Cards, available in 4, 8 and 16 GB customized for optimal video capture

KODAK Adventure Mount for helmet, handlebars and more

KODAK Cases, Bags and Neck Straps

Remote control

KODAK Li-Ion Rechargeable Digital Camera Battery KLIC-7004

Battery charger options including KODAK Li-Ion Universal Battery Charger K7700-C, KODAK Solar Charger KS100-C+2, KODAK Portable Charger KP100-C+2

* Microphone and headphones not included

** Record approximately 20 minutes per 1 GB at HD 720 at 30 fps.

*** Colors and availability may vary by region

About Kodak

As the world's foremost imaging innovator, Kodak helps consumers, businesses, and creative professionals unleash the power of pictures and printing to enrich their lives.

To learn more, visit http://www.kodak.com and follow our blogs and more at http://www.kodak.com/go/followus.

More than 75 million people worldwide manage, share and create photo gifts online at KODAK Gallery – join today at www.kodakgallery.com.

© Kodak, 2010. KODAK, PLAYTOUCH and PLAYSPORT are trademarks of Kodak.