Kodak EasyShare M590 & 10-inch Kodak PULSE digital WiFi frame unveiled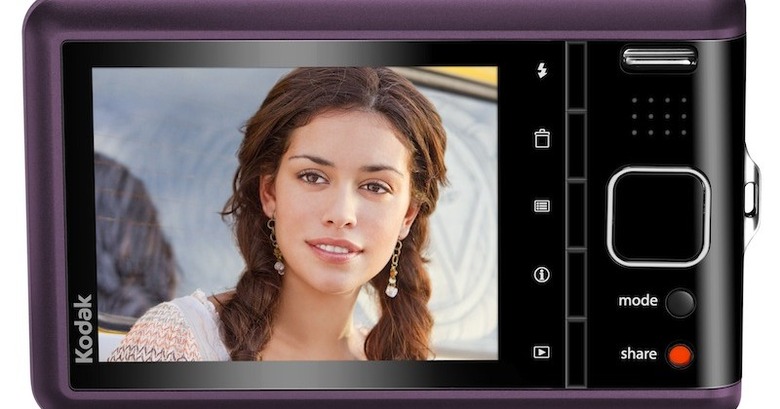 Kodak has outed what they're calling the world's thinnest digital camera with a 5x optical zoom, together with the 10-inch Kodak PULSE digital photo frame spotted hopping through the FCC last week.  The company is obviously so excited about the Kodak EasyShare M590's slimness that they've neglected to mention that other great photography competition: how many megapixels it packs.  Still, Kodak are so heavily pushing their Share button – which tags images for upload to various social networking and gallery sites once you plug in to a computer with a network connection – that they're probably assuming the raw shots will end up cropped down and compressed for online viewing, so original resolution doesn't really matter.
There's also a 2.7-inch LCD display, face recognition, image stabilization, HD video capture and a microSD card slot for storage.  The Kodak EasyShare M590 will go on sale this fall, priced at $199.95 in silver, red, purple or blue.
As for the 10-inch Kodak PULSE digital frame, like its 7-inch sibling it has WiFi and its own email address: you can send images directly to the frame and, as long as it's within network range, it'll automatically start showing them.  Facebook and Kodak Gallery content can also be pulled down automatically.  It'll also arrive this fall, priced at $199.95.
Press Release:
Kodak Introduces Latest Digital Camera for the Socially Savvy

KODAK EASYSHARE M590 is World's Thinnest* 5X Optical Zoom Digital Camera; Company Will Also Offer Larger KODAK PULSE Digital Frame

Rochester, NY, Aug 23 — Eastman Kodak Company today introduced the new KODAK EASYSHARE M590 Digital Camera, the ultimate social networking accessory for people who love to share their pictures. With Kodak's exclusive Share Button, consumers can tag pictures and videos directly on the camera for effortless uploading to popular social networking sites including FACEBOOK, KODAK Gallery, FLICKR, ORKUT, and YOUTUBE. Pictures can also be tagged to email and to send to any KODAK PULSE Digital Frame.

The new KODAK EASYSHARE M590 Digital Camera is the world's thinnest* 5X optical zoom digital camera. On top of its sleek, modern and stylish design, the camera also boasts advanced features including Kodak's Face Recognition feature that makes it simple for consumers to find and share the pictures they want, and Kodak's Smart Capture feature that helps them take better pictures automatically.

"We are thrilled to see how people have embraced Kodak's Share Button as an easier way to share life's moments with family and friends, in three simple steps," said Phil Scott, Vice President of Marketing, Digital Capture and Devices, Kodak. "With the new KODAK EASYSHARE M590 Digital Camera, we are continuing our commitment to bring to market innovative, intuitive and stylish products that make it fun and easy for today's socially savvy crowd to share all their favorite moments."

KODAK M590 Digital Camera Features:

Share Button for easy upload to KODAK Gallery, FACEBOOK, FLICKR, ORKUT, and YOUTUBE sites, as well as email

World's thinnest* 5X optical zoom digital camera (uses SCHNEIDER-KREUZNACH VARIOGON lens)

Built-in image stabilization

Kodak's Face Recognition feature

Kodak's Smart Capture feature

2.7-inch bright LCD with KODAK Color Science technology

Li-Ion rechargeable batteries and in-camera charging

HD picture and video capture

Uses MICROSD/MICROSDHC Card

The KODAK EASYSHARE M590 Digital Camera will be available this fall for US $199.95 MSRP in silver, red, purple and blue at major retailers and Kodak.com.

New 10-inch KODAK PULSE Digital Frame

Kodak is also introducing a larger size for its popular and award-wining KODAK PULSE Digital Frame. The new 10-inch PULSE Digital Frame will be available this fall for US $199.95 MSRP at major retailers and Kodak.com. With all the features of Kodak's current 7-inch PULSE Digital Frame, including Wi-Fi connectivity and a customizable email address, the 10-inch PULSE Frame is the perfect gift for the holiday season. The KODAK PULSE Digital Frame makes it easy for consumers to keep their frames fresh with new pictures and share with family and friends. Pictures can be emailed directly to the PULSE Frame from mobile phones, computers and any device with email capability. It also connects to FACEBOOK and KODAK Gallery photo albums, offers easy set-up with no software to install, and has an intuitive touchscreen interface.

With the KODAK PULSE Digital Frame, there is always something new to look forward to.

KODAK Digital Camera Accessories

A range of accessories are available for the KODAK M590 Digital Camera including:

New KODAK Gripping Tripods available this fall in a variety of colors

KODAK Cases, Bags and Neck Straps

KODAK MICROSDHC Memory Card

KODAK Li-Ion Rechargeable Digital Camera Battery KLIC-7000

Battery charger options including KODAK Li-Ion Universal Battery Charger K7700-C

* World's thinnest 5X optical zoom digital camera as of July, 2010

** Colors and availability may vary by region