Kobo unveils the limited edition Aura HD eReader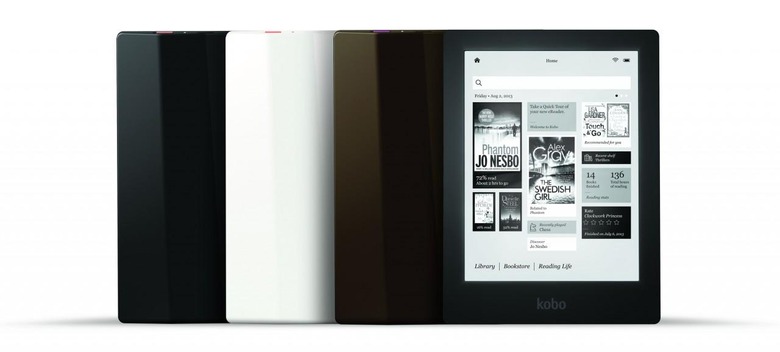 Kobo has just revealed its new, limited-edition E Ink Reader that will be available for pre-order beginning tomorrow for the price of $169.99. The eReader is dubbed the Kobo Aura HD, and it will be available in 3 colors: Ivory, Espresso, and Onyx (White, Brown, and Black). This new eReader is what Wayne White, the EVP and GM of Devices for Kobo, calls, "The Porsche of eReaders". He says that it pushes the boundaries of eReading, and is designed for those who are in the "driver's seat of their eReading adventures."
The Kobo Aura HD features a 6.8-inch Pearl E Ink 265dpi touchscreen display, a 1GHz processor, which Kobo says "makes it the fastest eReader on the market," 4GB of storage (with a microSD card slot for expandable storage of up to 32GB), two months of usage on a single charge, and many software features. There are 10 fonts included in the Aura HD with 24 adjustable font sizes, "displaying each letter with perfection".
Just last September, Kobo launched a new line-up of eReader devices, which included the Kobo Glo, Kobo Mini, and Kobo Arc. The Kobo Glo went on sale for $129.99 and featured a 6-inch E Ink screen with a backlight to improve reading in the dark. The Kobo Mini was a small, 5-inch E Ink display that retailed for $79.99, and was dubbed the world's smallest and lightest eReader, and finally, the Kobo Arc was not exactly a eReader, but a $199.99 – $249.99 Android device, which operates on a dual-core 1.5GHz processor and Android 4.0 Ice Cream Sandwich.
If you want to pre-order the Kobo Aura HD, you can do it through Kobo itself, or through its various resellers. Kobo designed the Aura HD to thank its 13-million user base. Back in January, Kobo announced that its eReader sales had doubled, and that it gained over 4 million customers since last summer. Michael Serbinins, CEO of Kobo, stated,
"Kobo Aura HD is designed for the most passionate booklovers – those who devour hundreds of stories each year – who asked us to create the ultimate ereading experience. Kobo Aura HD is our way of celebrating these customers."