Kno Dual-Screen Tablet hands-on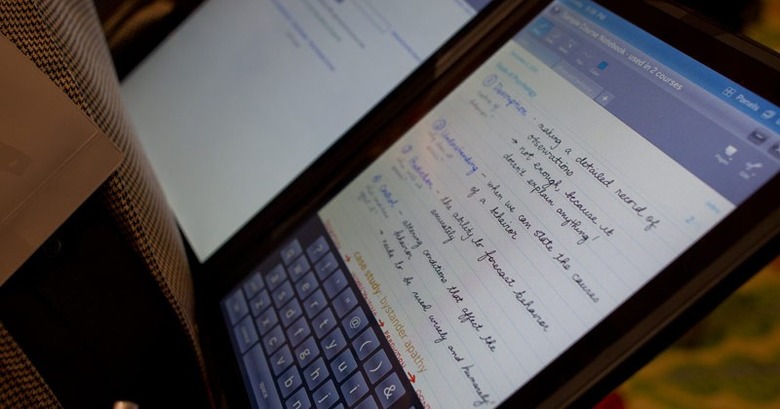 CES 2011 may be the year that tablets took over, but there's still nothing quite like Kno's vast dual-touchscreen clamshell. Resolutely targeted at students rather than a general audience, the Tegra 2 based machine pairs two 14.1-inch panels with both finger and stylus input. We grabbed some hands-on time; check out our first impressions after the cut.Video demo after the cut
It's easy to see that the Kno isn't a consumer device, but there are elements that we think mainstream tablet manufacturers could certainly do worse than to borrow. The 1440 x 900 IPS displays are easily viewed, even at the sort of angles you're inevitably going to be looking from when you're up close to such a broad expanse of screen, and the palm-rejection tech – which allows you to rest your hand on the touchscreen while using the magnetic stylus – works incredibly well.
Even though at 5.6 pounds this is on a par with an average 15.6-inch notebook, the Kno is deceptively lightweight in your hands. Perhaps that's down to the expectation that it will feel like toting a couple of desk monitors. Construction is sturdy – Kno were demonstrating the same units as they've been shipping to pre-order customers since December 20th – and we'd have no problems slotting it into a backpack without a case.
Kno's custom Linux-based software is a mixed bag. Initially responsive on the NVIDIA processor, after we used the tablet for a while it slowed down considerably. Buttons were sluggish to respond and the on-screen keyboard proved increasingly frustrating. There's no handwriting recognition, either, so you're stuck pecking out text; unlike, say, in Microsoft's OneNote software, handwritten notes aren't searchable. Still, it's useful to be able to annotate textbooks, and the huge displays mean you can have a browser open on one side and a textbook on the other, or indeed two textbooks on the go at once.
There's plenty of use made of the browser as well, since the Kno's apps are all browser-based. When the system is running smoothly, that's fine; there's tabbed browsing support, and you can easily flick between different pages for, say, IM conversations and research. We're not sure if the slow-downs are simply over-stressed demo units or something more, but the concept, while seeming wacky at first, actually makes plenty of sense despite the $899 price tag.
Kno tablet hands-on:
[vms 18cc9daa29cf58af7a00]