For those of you looking to set up a media center in your living room, your options are ever expanding. What we got a chance to take a bit of a closer look at this week at Pepcom's Holiday Spectacular 2011 was no less than Kingston's latest effort in external harddrive technology, this being the Wi-Drive wireless flash storage device. You'll be able to add a whole 16 or 32GB to your harddrive completely wirelessly and, what's better than that, share the content with any compatible device in the room.
You can currently use this product with most Apple products, that being the iPod Touch generation 3 or 4, the iPhone 3G, 3GS, and 4G, and the iPad or the iPad 2. This means that, for example, if I were to have one sitting here in the living room, it would erase the need for me to transfer videos to the iPad where I'd normally be playing them from via HDMI to the HD television. Now all I'd have to do is zap the videos from my computer right over to the Wi-Drive, my iPad then instantly having the ability to see them then too. Simple! Have a look at the device here courtesy of Kingston:
[vms 50ffdacb31483454e0b5]
This little beast is right around the size of your average smartphone at 121.5mm x 61.8mm x 9.8mm, and the folks at Kingston have let us know that compatibility with Android is right around the corner. You'll be able to work currently with the iOS devices listed above as well as Windows 7, Vista, and XP, as well as Max OS X 10.5 and up, and Linux 2.6 and up. You get a one year warranty right out of the box, there's an official iOS app in Apple's App Store, and its rechargeable battery lasts up to four hours of continuous use.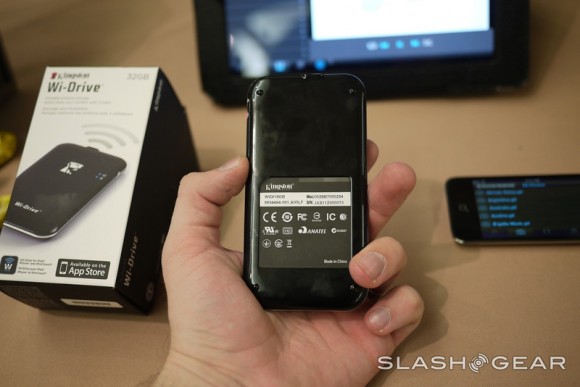 Look like the drive for you? Find out about more ultra fabulous Kingston products by hitting our big [Kingston Portal], and you can see the rest of our hands-on videos from the event by heading to the portal for the [Pepcom Holiday Spectacular 2011]!