King Jim Pomera DM20 is bizarre folding digital note-taker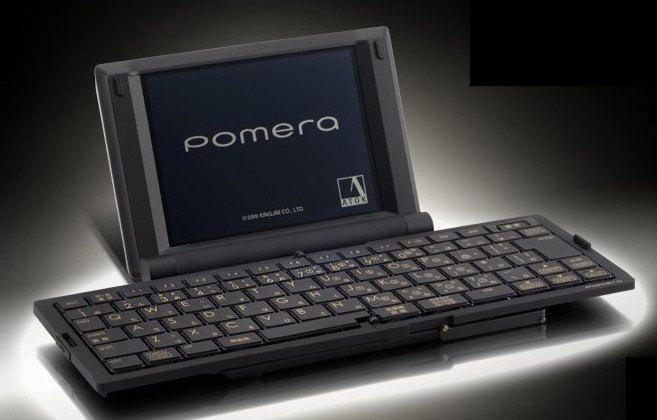 King Jim's single-purpose Pomera "digital memo" DM10 electronic notebook may have been bizarre enough to warrant some gentle ribbing last year, but sales in Japan must've been good enough for the company to green-light a successor.  The Pomera DM20 keeps the same clamshell keyboard design and monochrome display, together with the singularity of purpose that baffled us last time around: all it's meant to be used for is recording text notes.
Video demo after the cut
There's no wireless connectivity, though you can tether it to your cellphone; however there are no wirelessly-enabled apps – browser, email, IM, etc – even if you do so.  Instead you get a simple word processor app (more like Notepad or TextEdit, really) and both 89MB of internal storage and a microSDHC card slot.  The latter will take up to 16GB cards, which is room for a whole lot of plain text.
The display is a 5-inch 640 x 480 monochrome LCD panel and the whole thing measures 145 x 100 x 33 mm with the keyboard folded away.  It'll arrive in Japan come December 11th, priced at the equivalent of around $380; we'd say nobody would want one, but obviously we have no idea what Japanese consumers are actually looking for.
[via CrunchGear]