Kinect for Windows ships today; SDK v1.0 released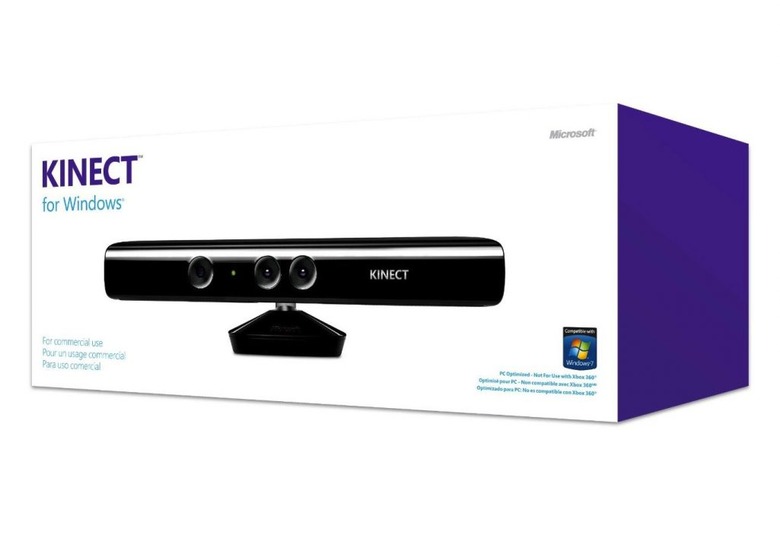 We may receive a commission on purchases made from links.
Microsoft's Kinect for Windows hardware has shipping from today, along with v1.0 of the Kinect Windows SDK and runtime, bringing motion-sensing from the Xbox 360 to the desktop. The sensor bar is priced at $249 – with an educational discount of $100 promised in the pipeline – while the software supports up to four bars plugged into a single computer and delivers "significantly improved skeletal tracking" than the earlier beta.
That boosted tracking means developers can now pick out which user they want to track with the sensor, and works with the Kinect Explorer features: more precise audio beam and sound source angle measurement, tweaked color and depth modes, and motor controls. The whole package is said to be more stable, with various runtime and audio fixes, and there's a "commercial-ready installer" to streamline integrating Kinect for Windows hardware into an end-application.
Some of the other changes would seemingly feed in to suggestions that Microsoft is looking to integrate Kinect into Windows 8 notebooks. There's a new "Near Mode" that allows the depth camera to track objects as close as 40cm from the sensor-bar, which should make for better observation of users sat in front of their notebook. Meanwhile, there's the v.11 Microsoft Speech components baked into the SDK and runtime installer, potentially enabling the "log me in" speech and face recognition tipped in the latest leak.
Those at a distance aren't forgotten either, with a better "far-talk" acoustic model to improve on speech recognition accuracy. The Kinect for Windows team says to expect SDK and runtime updates 2-3 times per year moving forward.
The Kinect for Windows sensor is available to order now, priced at $249.99.