Kindle Paperwhite 2 makes brief appearance on Amazon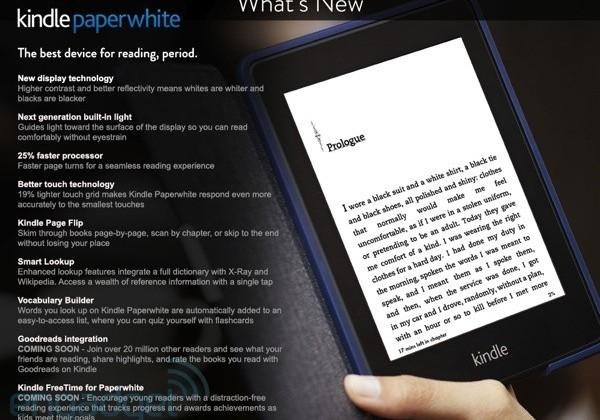 Amidst the launch of its new home automation store and the announcement of MatchBook, a discounted ebook program for customers who bought physical copies of certain books, Amazon seems to have another unveiling in the works, one that made its public appearance a bit early. For a brief spat of time, a next-generation Kindle Paperwhite ereader was listed on the company's website, only to be pulled a short while later.
The listing was spotted by the folks over at Engadget, who managed to grab a couple screenshots before Amazon took the page down. In them, we see the device being touted as an "all-new" Kindle Paperwhite, an ereader with a "next-gen built-in light", "all-new Paperwhite display," and pricing set at rates for both with-special-offers and without devices, something implemented with the current generation.
During the time the listing was up, the Kindle Paperwhite 2 was shown as being available for pre-order for $119 with special offers and at $189 without them, a somewhat generous boost over the current models, which start at $139 without the special offers (with special offers is still $119, however). The shipment date was listed as September 30.
The new Paperwhite is hailed as having new display tech on-board with both higher contrast and better reflectivity, while the processor is listed as 25-percent faster for a smoother, faster turning rate. The touch functionality of the ereader is said to be boosted with a 19-percent "tighter touch grid," allowing for smaller, lighter touches.
From there, there's Smart Lookup, a lookup feature tied to X-Ray and Wikipedia, a vocabulary builder with flashcards, and Page Flip for scanning through chapters, pages, and to the end of the book while maintaining one's placement. And rounding it all out is promise of two coming-soon features: Goodreads integration and Kindle FreeTime, the latter of which strips away distractions while implementing rewards to encourage reading amongst children.
SOURCE: Engadget