Kindle for Android updated: voice searches, Shelfari integration & annotations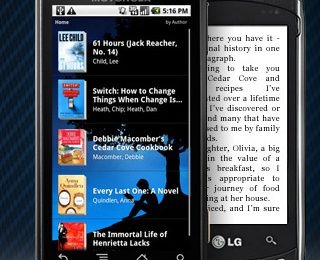 Amazon has updated its Kindle for Android app, complete with voice and text triggered searches, support for highlights and annotations – along with inter-device synchronization – and integration with the Shelfari book-centric social networking site.  Users can now access not only extra plot, character and summary details for books, but view real-time discussions other readers are having about them.
There's also an orientation lock – which allows readers to fix the screen in either portrait or landscape mode no matter how they're holding the phone – and Wikipedia integration for searching definitions of words and phrases.  Kindle for Android is a free download from the Android Market.
Search within the book: Customers can either type or speak a word or phrase to search within a book.

Add, Edit and Delete Notes and Highlights: Kindle for Android is the only reading app for Android-based devices that allows readers to add notes and highlights to books, and have them automatically synchronized between devices.

Wikipedia Lookup: Look up words and phrases in Wikipedia simply by selecting text.

Shelfari Book Details: For the first time, customers can view additional book details from the books-focused social networking site Shelfari. Readers will find a description of the book, synopsis, summary, cast of characters, and many more features, and be able to view real-time discussions that the Shelfari community is having about the book.

Orientation Lock: Choose to lock the orientation of their screen in landscape or portrait mode to allow for comfortable reading in any position.
[via Android Community]