With less than a week before Amazon's next press event, several new bits of information have been leaked showing off a new Kindle Fire tablet and tipping Nokia as their new Maps pusher. As Amazon continues to attempt to work with Google's mobile OS Android with as little Google influence as possible, they've been tipped to be working with Nokia Oyj by Rueters where they say that not only will the next Kindle Fire model have either a GPS chip or Wi-fi triangulation, they'll be working with Nokia's own brand of GPS mapping rather than Google Maps. The other reveal happening within the last 24 hours includes a couple photos of the Kindle Fire 2 before it hits the press room.
The images you see below show off what The Verge has been tipped is a new Kindle Fire. This unit appears to have a slightly updated user interface working on it as well as a bit of picture-in-picture video chat. You'll also see a front-facing camera sitting on the top of the long side of the tablet near a microphone hole as well.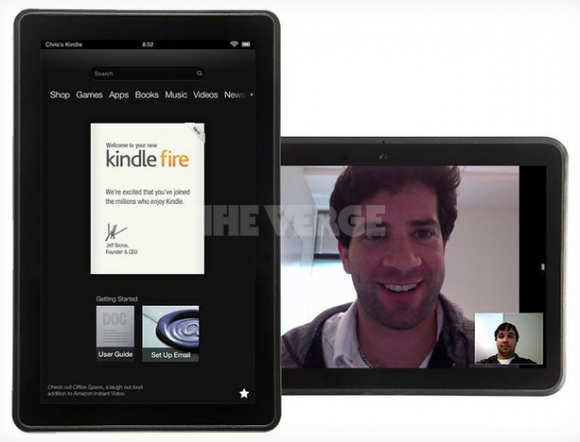 This tablet appears to have a rather similar look to the original Kindle Fire with basically the same edge bumper and display size. The unit pictured here is likely a mock-up as some "pixelation" – if you will – does occur in each of the different poses. The border size on each model appears to be a slight bit different as well – it may be, however, that there are two models and one brand.
The image showing two tablets may be showing the 7-inch version of the Kindle Fire 2 while the upright tablet may be the 10-inch Kindle Fire 2. This would lend itself well to the rumor that there are indeed two units and that the smaller one is still a media-toting beast while the larger has a more powerful processor and the ability to work with higher-requirements media. The user interface also reflects the Android Amazon app store's relatively new look as well – check it out and let us know if you agree!