Kickstarter POP gets Apple denial, becomes largest backer refund ever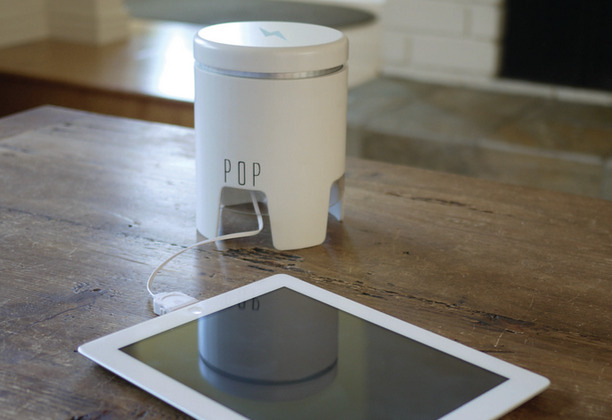 It's time to get your cash back, you lovers of the Kickstarter that never actually happened – the one called POP or "Ortable Power station", working with the Apple Lightning cord amongst other things – that being the reason for its demise. As it turns out, the creator of this project mister Jamie Siminoff, CEO of Edison Junior, wasn't able to secure the rights he needed from Apple that would allow him and his project to work with the Lightning cord for the iPhone 5. Because of this, the whole project is a bust and he's giving all the money back – but there's a hitch.
The big hitch is that Kickstarter always takes a fee from a project, that being a big part of how the organization works. In this case, the creators at Edison Jr have made an unprecedented move in asking for that 5% back. There's also a credit card fee that's more or less 3% that Edison Jr is claiming they're having to absorb, these two costs being relatively prohibitive for their prospective future in the business.
The total that this company would lose because of this situation is said by them to be over $11,000 USD. Or it will be unless Kickstarter gives them the 5% of the cash back. What would you do if you were Kicksarter? What would you do if you were in Edison Jr's position?
Meanwhile the CEO of Edison Jr (that's Jamie Siminoff, again), has started up a company by the name of Christie Street. This company is a crowdfunding program that "carefully vets each invention before launch to ensure they are feasible and credible." Jamie Siminoff is currently taking all of the backers of POP (the ones that wont be getting products at this point) and is setting them up with Christie Street accounts.
Once they've got Christie Street accounts, they'll either have the option to get their cash back that they put into POP, or they can choose to "receive credits to invest in a new project on Christie Street." In other words, if you supported POP, you're about to be a member of Christie Street, and if you don't specifically ask for your cash back from the POP non-product, you'll be given Christie Street "credits" instead. As the release notes, this has created a situation in which refunds can go out much quicker than if they'd set up manual refunds to all 1,000 some backers one by one.
It is good to hear the following, one way or anther, straight from Jamie himself:
Providing full refunds means we will have to absorb a hit for both credit card (3%) and Kickstarter fees (5%) totaling over $11,000.  Today we asked Kickstarter for the 5% fee they collected based on the circumstances, however regardless of their decision YOU WILL RECEIVE 100% OF YOUR MONEY BACK.

We don't believe in selling a substandard, compromised product that only satisfies the needs of a few backers, as that was not our promise.  So we can't thank you enough for your incredible support and awesome feedback – we hope to collaborate again with you soon.  If you have any issues please email me directly.

All the best,

Jamie
Let us know what you think about the whole situation whether you're involved in it directly or not!