Kia Track'ster concept ditches dreary for MINI Cooper rival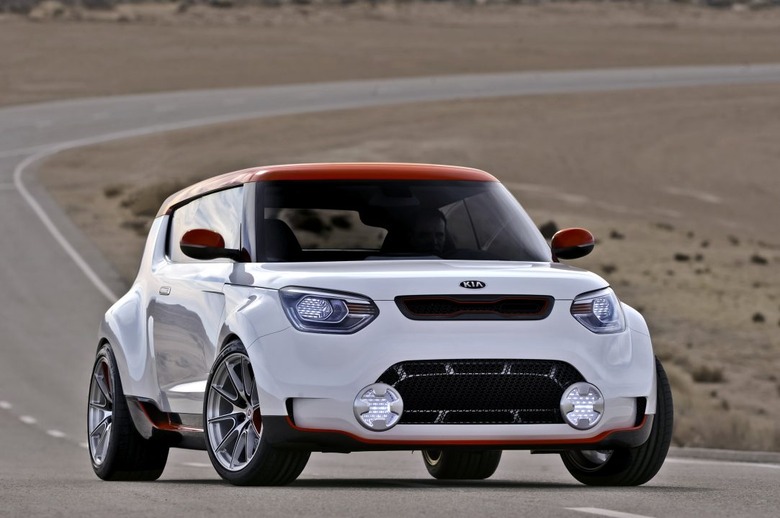 Kia knows it has a lot to do to shed its sensible image and convince would-be buyers it's sexy, inspiring and aspirational, and the Kia Track'ster concept is the first step down that road. Revealed at the Chicago Auto Show today, the Optima Limited Track'ster channels Kia's potential design direction for the next-gen Soul, with "immense LED driving lights" and a 250 horsepower 2.0-liter turbocharged four-cylinder engine.
That's 66-percent more powerful than the regular Soul, and puts its power down through a short-throw six-speed manual transmission to HRE-K1 monoblock billet performance wheels clad in 245/40-19-inch front and 285/35-19-inch rear Michelin Pilot Sport PS2 high-performance tires. 14-inch Brembo vented and cross-drilled disc brakes – with by six-piston calipers – in front, and 13.6-inch discs – with four-piston calipers – at the rear make sure you can stop, too.
"The idea was to make the Track'ster tough looking, like a bulldog" chief designer Tom Kearns says,  throwing flared wheel arches, a huge grille, lots of lights and splashes of orange paint at the concept. The Soul normally has rear doors, but they've been ditched in favor of longer front doors that open to reveal suede-covered racing seats and a leather-wrapped dash. A sizable touchscreen handles navigation, entertainment and HVAC.
Rather than rear seats, Kia has used the space for an equipment tray and spare-tire well, somewhere to keep your racing kit and emergency supplies. Unfortunately Kia has no plans to produce a commercial version of the Track'ster concept, though we're keeping our fingers crossed that the next-gen Soul will borrow more than a few details.