KFC serving non-meat Chicken with Beyond Meat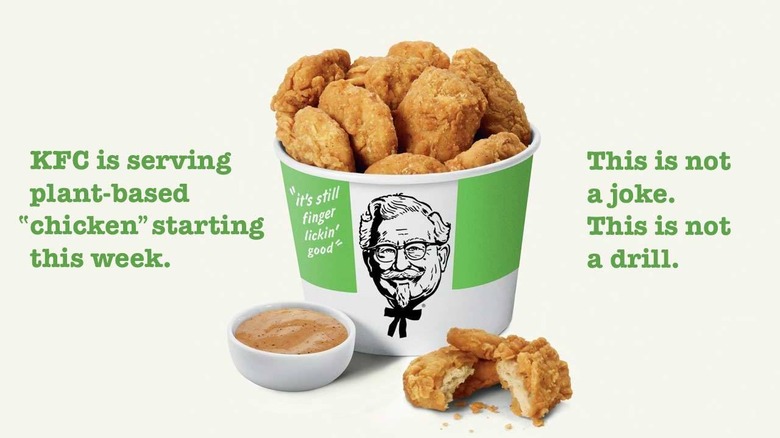 Starting on the 27th of August, 2019, KFC planned to start serving non-meat chicken. They'd revealed a partnership with the company Beyond Meat, making them the first national USA-based quick service restaurant (QSR) to serve plant-based chicken. KFC's first release on this release branded this "Beyond Fried Chicken" and called it "A Kentucky Fried Miracle."
The first KFC restaurant that'll get this new non-meat, plant-based "chicken" will be in Atlanta, Georgia. That'll be the Cobb Parkway restaurant located at 2637 Cobb Pkwy South East, Smyrna, Georgia. This restaurant will act as the pilot for a potential nationwide launch across the United States.
Customers who'd like to sample the plant-based chicken can do so starting at 10:30 AM local time on August 27th, 2019. From 10:30 AM until 6:30 PM, customers will be given a "complimentary sample of Beyond Fried Chicken" with purchase of any KFC menu item. That's only while supplies last – but it'll be interesting to see how quick they run out, if they run out.
There'll also be a set of regular menu items available for people that want to jump in on the Beyond Fried Chicken headfirst. There'll be non-meat nuggets in 6 or 12-piece combo meals, including a "side" and a medium drink for between $6.49 and $8.49 USD.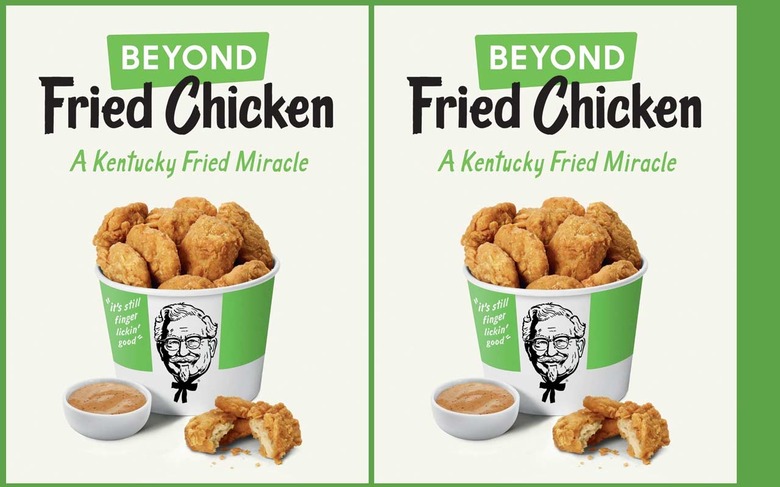 Nuggets were also listed as menu items starting on August 27 for approximately $2 USD per 4-piece set. There'll also be KFC Beyond Fried Chicken available as boneless wings in 6 or 12-piece sets for approximately $6 and $12 USD.
"KFC is an iconic part of American culture and a brand that I, like so many consumers, grew up with," said Ethan Brown, founder and CEO, Beyond Meat. "My only regret is not being able to see the legendary Colonel himself enjoy this important moment."
This is not the first restaurant to carry Beyond Meat products in the United States. It's likely KFC's pilot program restaurant launch will provide insight into the future of the non-meat substitute for chicken in more restaurants across the USA and the world. We'll just have to wait and see.